Pictorium is a universal iPhone and iPad that is not a photography app, and it's not really a game. It's essentially an expensive tool to waste some time, and it's not particularly interesting. For $1.99 download, there are a lot better uses of your hard-earned money. However, with some enhancements and re-design, it could bring a nice perspective to the legions of photography apps.
Pictorium's home screen opens with the choice to get started or to check out the tutorial. I am a big fan of tutorials that are produced well and succinctly. The developers at Ultra Mega Stuff LLC do a nice job with the handy how-to guide. All four steps and the nuanced gesture controls were explained and demonstrated with excellent graphics. Once you move on to working with the Pictorium app on your iPhone and iPad, you can access the tutorial at any point by touching the top of the screen. Since Pictorium requires a lot of tapping and swiping, you'll want to be able to refer to instructions frequently.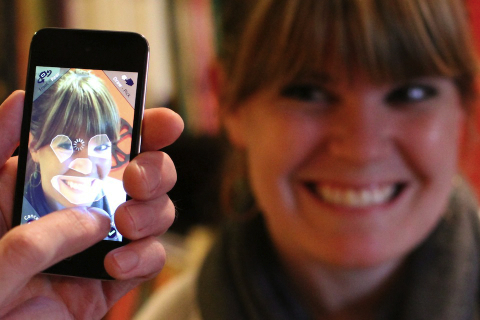 You shoot four photos within the Pictorium app, or actually, the app saves portions of the image in the frame of the camera. You pinch and drag your fingers to save an element of the photo, or you swipe across the screen for default shapes. The shapes are cheeky and witty. Certainly, the most fun and entertaining is the walking man a la Abbey Road. Up to four shapes and their images are saved for four different photos. You have as many as 16 different shapes and images to move and manipulate on the screen.
To work with the 16 different shapes and images on the screen, you have a list of tools. Fortunately, these tools are not graphics. They are words, and you'll appreciate the absence of a few images. Sixteen shapes and images fill the screen. You highlight "random" or "shatter" to set your shapes and images in motion. And, in motion, they will go. You can touch "shade" or "stencil" to add texture to the images or add borders. If you want to delete or hide images, you can do so by touching those words.
Once you set your images and shapes in motion and add drama, all of these bits and pieces fly across the screen. And, that's it. Shapes and images move across the screen. There is no sharing. There is no saving–except for the sixteen images floating around your screen.
If Pictorium's universal download converted your floating images to a video to share, it could dramatically increase functionality. Also, at this point, the gestures were a little too responsive. As someone who plays with a lot of photography apps, I can generally control settings well. These were a little jumpy and a little wild.
Pictorium's universal download has a lot of potential, but it's just not there yet or worth the $1.99 price tag.