Are you looking for apps to streamline the bid process for your marketing business? DESIGNFEE Calculator for iPhone and iPad could be a great option to help you accurately determine your costs and secure greater profitability. You can create and manage your quote process by incorporating excellent features to calculate your hourly rate and assess overhead expenses, as well as sync with Evernote and your devices contacts. The DESIGNFEE Calculator for iPhone and iPad maximizes the time it takes to secure a sale and maintain a healthy profit margin.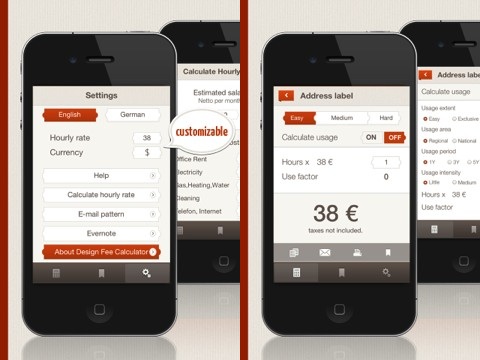 To customize the DESIGNFEE Calculator for iPhone and iPad, you'll want to move straight to the settings option. You can simply input the hourly rate and choose currency with responsive touch controls. Or, you can examine the full picture of your business. In a thorough, yet easily navigated screen, you input your monthly salary and all of your monthly costs. The list helps you remember important items like associations, meals, cars, insurance, employees' salaries, as well as marketing expenses. Your hourly monthly requirement to secure your monthly salary is then incorporated into the DESIGNFEE Calculator iPhone app's quote process.
The Design Fee Calculator app has an extensive list of typical design processes for web content, paper collateral, graphic design, and application development. You search through the database and adjust the project quickly and easily. Your gut feeling from the moment you sell your work guides you. You click easy, medium, or hard, and the fee is calculated to reflect your effort. With one touch, you can open a screen to further customize your bid. If you have a client or project with a complex requirement, then you will want the fee to reflect the level of time and expertise. If you want to manually change the hours required, then you can make those adjustments as well. DESIGNFEE lets you dig into details, or you can simply stick to the easy, medium, or hard specifications.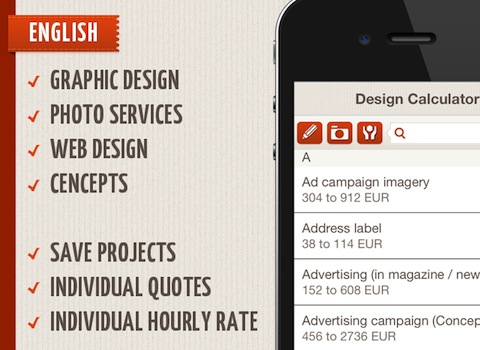 With a touch, you can share your quote via email. You can customize the text of the email in the settings menu, so your quote generated by the DESIGNFEE Calculator iPhone app will reflect your brand message. You can add notes to finesse the sale or determine terms and conditions for each email sent. The Design Fee Calculator fully coordinates with your iPhone and iPad contact list for seamless email integration. Evernote users will also benefit for a seamless sync with DESIGNFEE Calculator.
The DESIGNFEE Calculator for iPhone and iPad gives you great tools that allow you to be more precise with your design business quotes. The ability to establish an encompassing hourly rate helps you create financial success for yourself, as you create beautiful design for your clients.
Here is a video demo of the DESIGNFEE Calculator – Estimating design. Calculate hourly rates. app on the iPhone