Zoom
User Reviews
Want to see Gmail changes you make on your iPhone instantly reflected in Gmail? Now you can with IMAP for Gmail support rolling out over the next few days. You can sync your inbox across devices instantly and automatically. Whether you read or write your email on your phone or on your desktop, changes you make to Gmail will be seen from anywhere you access your inbox. Delete an email from your iPhone and it will be deleted from your Gmail. Gmail will also show what you've read on the iPhone, so no more "Mark as read" and reading the same email twice nonsense.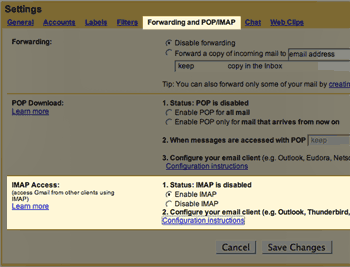 To see if your Gmail account has IMAP turned on yet login to your Gmail account and goto Settings. If you see a tab called "Forwarding and POP/IMAP" you have it. If your tab says "Forwarding and POP" it means your account has not been IMAP enabled by Google yet. But not to worry, Google is rolling it out to everyone over the next few days. Here is what the Settings page looks like with IMAP support.
To configure your iPhone to use Gmail with IMAP support follow these 7 steps. A video demonstration is also provided below.
Enable IMAP in your Gmail account settings.
Tap Settings.
Tap Mail.
Tap Add Account.
Tap Other. (Note: don't tap Gmail; if you do, you'll set up POP rather than IMAP. We are aware of this issue and are currently working to make setting up Gmail more intuitive for the iPhone.)
Make sure that:

The IMAP tab is highlighted
Host Name is imap.gmail.com
User Name is your full Gmail address, including '@gmail.com'
For Outgoing Mail Server (SMTP), Host Name is smtp.gmail.com
For Outgoing Mail Server (SMTP), Host Name is smtp.gmail.com

Tap Save, and you're done.
You can also verify your Advanced settings by tapping Settings > [your Gmail IMAP Account] > Advanced.
Incoming Settings
Use SSL: ON
Authentication: password
Server Port: 993
Outgoing Settings
Use SSL: ON
Authentication: Password
Server Port: 587
If you rather watch the steps here is a nice little video tutorial:

Read the details here. More info on the official Google and Gmail blogs.