Invy is a stylish event date planner for the iPhone. The intention of the invy iPhone app is wickedly cool, but the execution incorporates email to make it accessible to those who balk at the $1.99 price tag. I want to love the invy iPhone app to coordinate the date for a get together, but its pursuit of simplicity actually results in layers of messaging and confusion. The work of the invy iPhone app occurs within the app and leaves an email paper trail behind. The Invy interface is built with style. The invy iPhone app has a modern, clean graphic presence, and smooth, logical navigation. You are required to validate your email address to use the invy iPhone app. You simply tap the notepad to add a new proposed date. You title the event, add the location and recipients, and select dates.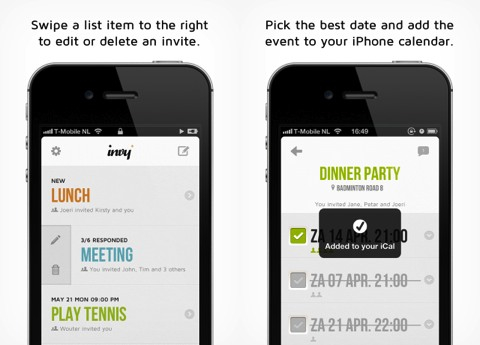 The select date feature is a typical scrolling feature with date and time. You touch next to select a new date and time. There is no back and forth when selecting dates, and this is a nice function. When complete, you press send. The invy iPhone app quickly sends email invitations and invitations through the app to other invy iPhone app users. All of the navigation is simple, straightforward, and responsive. With a nod to evite, you can add a comment to the event.
When an invitee receives an invy iPhone app invitation, the email has a similar interface to the invy iPhone app. You tap your response and comment from within the online invy interface. You are notified via notifications and alerts of responses on your iPhone, as well as receive updates via email. This is where the information gets too muddy. For invy iPhone app users, all of the information should come and go through the iPhone app. If there is a long thread and lots of activity regarding the date selections, you have a rapidly filling inbox. The beauty of the invy iPhone app should be eliminating the email clutter. I appreciate that the developers chose to create an interface that made the invy iPhone app functionality accessible to those without iPhones or the invy iPhone app, but they need to streamline this process to make it unique.
The invy iPhone app invitation does contain a special feature that you will love. When you select a date for a gathering, invy will upload it to your iPhone calendar with a touch.
The invy iPhone app has a market, but it's expensive and not fully realized. The invy iPhone app will be a hit with some tweaking.
This 3rd Party App is available at the Apple iTunes AppStore. Browse the full list of
all AppStore apps
filed under the AppStore category.