LabDoor app for iPhone, iPod touch and iPad is supposed to provide an easy way for you to check the safety and effectiveness of your supplements – vitamins, protein bars and shakes, etc. The concept is great because it gives each product a safety "grade" – ranging from A to F – that can help you easily compare the safety of the products you're browsing in the health-store aisle. In practice, however, the app does not deliver.
Developer LABRDR Inc. has put out an unfinished product that has very little of the utility it promises in the app description. It has a top products page, which is nice, because you can see what supplements are popular and quickly find their safety stats. If you're not specifically interested in any of the top products, it's no problem – the app lets you do a key-word product search. I searched for glucosamine by both its generic name and its manufacturers, but LabDoor couldn't find any results. A failure to find other popular supplements also leads me to believe that the app is extremely lacking in content.
Another utility issue for LabDoor is that the product information page promises stats for the FDA reporting, the manufacturing purity, and the chemical reverse-engineering of the product, yet there is none of the promised information in these sections. The similar-but-safer product recommendations feature is not functional either. On the other hand, sharing your favorite supplement (if it can be found) is made easy with this app – you can one-touch the product profile to Facebook and Twitter so your friends can see what protein shake you're downing after your workout.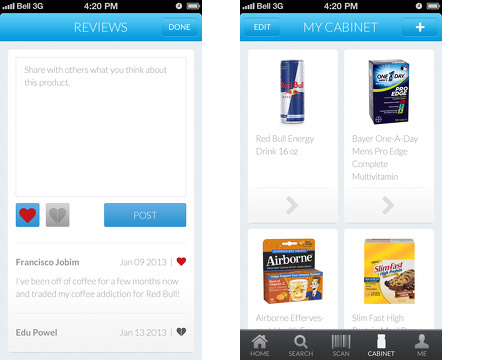 Perhaps the biggest concern you should have with the LabDoor app is that it doesn't explain its criteria for how it calculates a product's safety grade. Several bar graphs located under the grade attest to the product's efficacy and ingredient safety through the use of stop-light colors (green = good; red = bad; and yellow = somewhere between good and bad), but there are no other contexts provided for the graphs.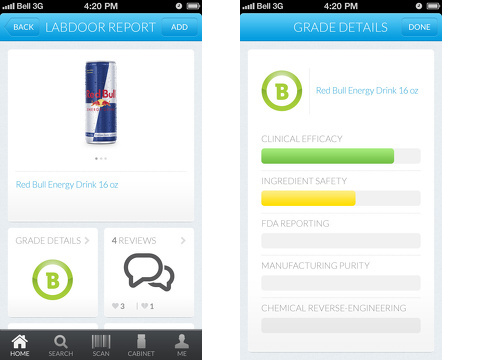 While the LabDoor iPhone app failed to meet my expectations, it has great potential. As more content is added to the program – including criteria of safety ratings – and the safety graphs are more clearly defined, I can see this become a valuable tool for supplement consumers. LabDoor iPhone app is available at the iTunes App Store.
This 3rd Party App is available at the Apple iTunes AppStore. Browse the full list of
all AppStore apps
filed under the AppStore category.