What would you look like with no hair? Well, BaldBooth by PiVi & Co designed an iPhone app to show you. BaldBooth takes your photo, removes the hair and shows you what you look like with a shiny dome on your head.
The BaldBooth splash screen shows you some examples of BaldBooth photos and the Start button. Once you create a few pictures, your personal examples show on this splash screen. Press the Start button to get your own bald photo. On the next screen, BaldBooth shows you some examples of the best types of pictures to use. No profile pictures; no bangs. Use pictures with a clear view of the entire face and the ears.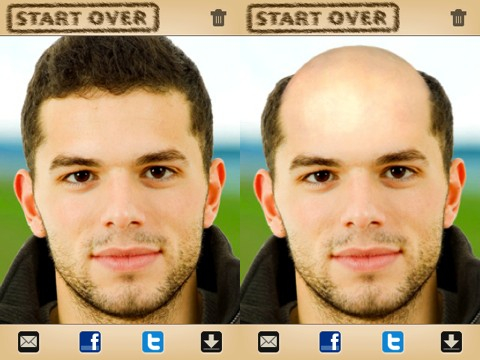 You get to import existing photos or use the camera to take a photo. The iPhone's forward facing camera is a great way to get personal portraits for this application. Tap the Camera button to take a picture. Tap the Library button to choose an existing photo. You may also pick photos from your Facebook page.
Once your picture is loaded into the BaldBooth app, you need to prepare the photo for baldness. You center the eyes over the pupils by touching and dragging them to the appropriate place. Move the ears to center of the ears in the photo. Do the same with the eyebrows. Tap the Go! button to start the balding process.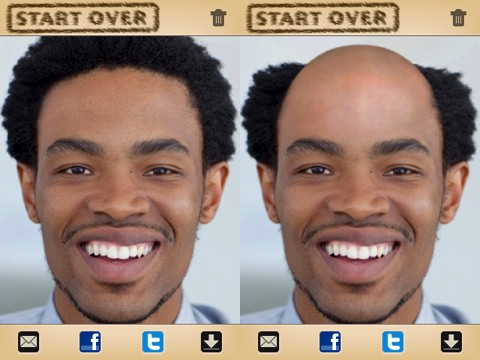 BaldBooth loads your picture with your new bald photo. While you wait, you get a splash screen that says "Sorry for Your Loss." When your picture appears, tap the image to get rid of the upper and lower toolbars to completely view your pictures. Tap the screen again to get the toolbars-and your options-back.
The top toolbar provides a button to start over and to trash the current photo. The bottom toolbar provides the means to share and save your photos. From left to right: email, Facebook, Twitter and Save to Camera roll buttons show.
BaldBooth works on all iOS devices including the iPod Touch (camera editions). You do not need an Internet connection to use BaldBooth beyond the initial download from the iTunes Store. BaldBooth costs $0.99 USD to download from the iTunes Store.
BaldBooth provides a few chuckles when you download it. You take photos of your friends and laugh at what they look like. As far as retention goes, it probably won't get much use on your phone beyond the original novelty of this iPhone app. I doubt it remains on my personal phone for very long simply because the space the program takes is better served with a program I will use on a daily or weekly basis.
This review of BaldBooth was written using an iPhone 4 running iOS 5.0.1 firmware