Do you still make poems by stringing together word magnets on your refrigerator? Do your kids think you're nuts and ridiculous that you use such old-fashioned means to have a family conversation about poetry? You may want to check out the Instant Poetry HD iPhone and iPad app to update this fad of the 1980s and 1990s for those now born with iPod Touches in their hands.
The Instant Poetry HD app is literally a white screen. The overview and instructions are in a plain pop-up notification in the middle of the screen. After you close the pop-up, all of the features described are accessed via the options icon at the top right of the screen. You can change the screen to a photo from your iPhone or iPad library to serve as inspiration. You can choose the theme of the words from the default set of words or themes like love, sadness, and passionate.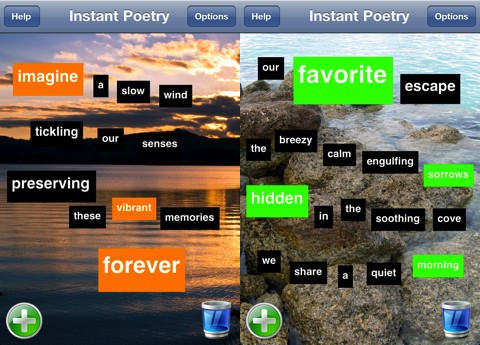 You can select from an incredible list of fonts to customize your words' appearance. You can also save your poem or save via screen shot. You can share via email or Facebook. I would like to see some more sophisticated navigation to access the features, and the opportunity to bring color to the screen and the words. I would specifically recommend a sliding navigation bar like Facebook. Expanded color choices would make the Instant Poetry HD app pop and increase engagement.
The app's blank screen fills with words, when you touch the plus icon in the bottom left of the screen. Using gesture controls, you move words on the screen and arrange them to create your Instant Poetry HD poem. When you are ready for a new batch of words, you touch plus again. As your poem builds and your screen fills, you can continue to play with the words on the screen. The word selection is interesting and fun, so you can craft a poem from many different perspectives.
The Instant Poetry HD iOS app is fun for family and friends, but it would become a hit with a DrawSomething gaming functionality. It would be a blast to send bits and pieces of poems back and forth. Instant Poetry HD has potential to be more relevant and timely with enhanced navigation, visual presence, and social networking. As currently configured, you'll have function, but not flair.
This 3rd Party App is available at the Apple iTunes AppStore. Browse the full list of
all AppStore apps
filed under the AppStore category.