Ever wonder what you will look like when you're pregnant? The Preggo Booth iPhone app gives you a chance to check out what you'll look like at three, six, and nine months. Pregnancy can be stressful and causes fear and uncertainty for new moms. Whether you'r expecting, planing to conceive, or just want to have some fun messing around with the idea, the PreggoBooth app for your iPhone attempts to shed some humor on this otherwise serious and tense subject matter. It can also be somewhat educational seeing yourself virtually pregnant and see how you would look throughout your child bearing trimesters.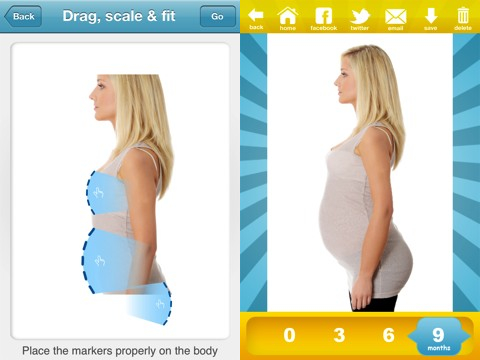 As you would expect, the PreggoBooth app is extremely simple to use. You need to take a full length body photo. You'll definitely need someone to shoot a photo, as it recommends you position yourself in a crime-scene outline on the screen. Your hand is on your hip, and a profile shot is required. After you shoot your photo, you adjust three areas on the screen with gesture controls. You move bubbles to cover your bust, belly, and bum.
The Preggo Booth iOS app quickly process your photo. There is a save and share menu bar at the top of the screen, and you slide your finger across the bar at the bottom of the screen to watch your body change. You have a zero month picture, a three month photo, a six month photo, and a nine month photo. The increasing size of your bust, belly, and bum are extremely accurate. But, the Preggo Booth iPhone app doesn't address how you hold weight in every nook, cranny, and crevice–especially in the last trimester. You can share your photo via email, Facebook, and Twitter.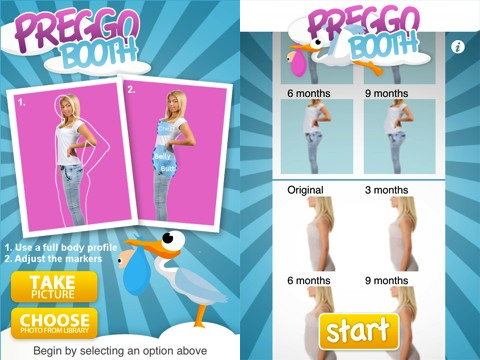 If you and your girlfriends are still enjoying the carefree days of a girls night out without hiring a babysitter or roping your partner into staying home, then the Preggo Booth iOS app could be a great party game to give you a glimpse of a pregnant future.
This 3rd Party App is available at the Apple iTunes AppStore. Browse the full list of
all AppStore apps
filed under the AppStore category.