PhraseWit's iPhone, iPod Touch, and iPad app is a clever, fun educational app to test your knowledge of complicated and nuanced phrases frequently used by Americans. Are you a word nerd who knows "irregardless" isn't a word? Do you like to test your knowledge of phrases and their proper usage? Are you in the marketing business and post every misspelling and misuse on your Facebook page?
The PhraseWit iPhone, iPod Touch, and iPad app has simple, intuitive navigation with a dash of Wheel of Fortune. The navigation of this agile educational app is accomplished through the menu at the bottom of the screen. You move between spin, play, trends, list, master it!, and the store. The spin, trends, and list give you a glimpse into a profile of each phrase. The play icon lets you test your phrase knowledge, and correct responses are logged in your master it! icon. The store allows you to purchase additional phrases in packages for $1.99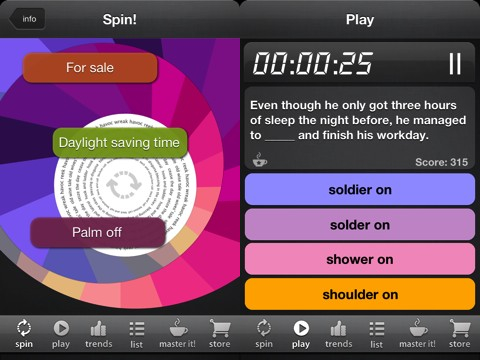 The PhraseWit iOS app's spin icon leads to an attractive screen with a beautiful color wheel. Using gesture controls, you make a circle on the screen and a phrase appears. You touch the phrase, and an in-depth description of the phrase and its common misuse are presented. The description is informative, straight-forward, and friendly in tone. You can share each description to Facebook, Twitter, LinkedIn, and email. The LinkedIn social integration is smart and sophisticated, as the PhraseWit iOS app information would be great ways to start conversations particularly for those in the marketing, sales, and branding fields. Precision of words and tone is a common conversation in those circles. Your Facebook news feed probably contains a photo with a corrected word, phrase, or grammar fail. The trends list icon lets you check out the most popular phrases among PhraseWit's iPhone, iPod Touch, and iPad app users. The list icon contains all of the phrases arranged alphabetically. You can search through the list by its proper usage or its "mangled cousin."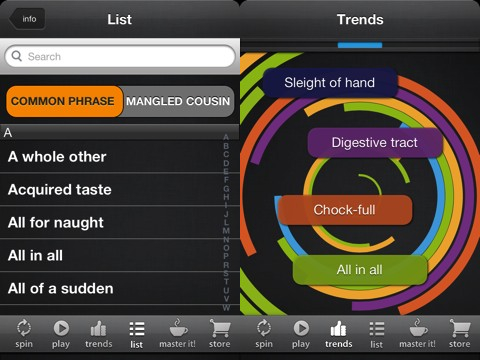 The best feature of the PhraseWit iPhone, iPod Touch, and iPad app is the game accessed via the play icon. A sentence with a blank for the phrase fills the top of the screen. You have four selections from which to choose. When you make an appropriate selection, you earn points and the phrase is placed in your master list. There is a clock at the top of the screen, but it doesn't seem to influence the game play. It expired and restarted on several occasions with little rhyme or reason. When you have demonstrated your knowledge of the first level of phrases, then you can start directly to plug away at the next level.
The PhraseWit iPhone, iPod Touch, and iPad app is nerdy fun, and it is reasonably priced at $0.99. More importantly, the PhraseWit iOS app successfully blends education and fun in a sophisticated, easily shared packaged.