KCCO! For those Apple product users who are avid followers of the always entertaining website thechive.com, theCHIVE Lite app for iPhone, iPod touch and iPad is just what chivers need to entertain themselves at work, while waiting in line, or on the subway. The free iOS app is the perfect way to enjoy all the entertainment of thechive.com, without running the risk of getting busted at work looking at the website's NSFW pictures.
The app is a simplified version of the Chive website. The concept is a collection of the best random photos, drawings and videos that were submitted to the website and then compiled into collections. What you can expect are hilarious, sexy, random and downright bizarre photos and videos from across the internet and from users' personal collections. Users can search by category, top rated collections or the latest photo collections posted on the site. Hitting 'Shuffle' at the bottom of the screen will bring up a randomly picked photo collection for users who don't know where to begin or have already perused the most recent posts.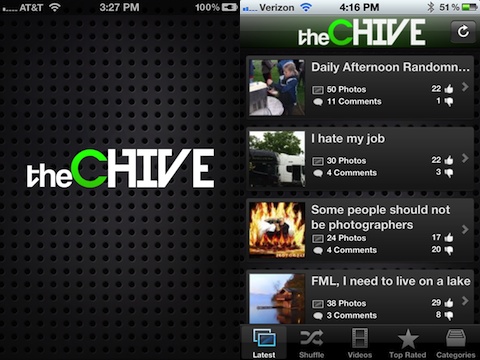 Photos and drawings are arranged in galleries by subjects like 'Daily Afternoon Randomness,' Cat Saturday,' 'FLBP' (Future Lower Back Problems- something for the guys), and 'Sports fanatics take it to a whole new level,' among many other randomly labeled galleries. Occasionally the photos are grainy and hard to see what is happening in them, so there are some that should have been left off of the app. But, overall the photos and drawings are clear enough to understand what's going on. The bottom icon bars on each photo categories page and under each photo allow the user to leave comments, 'like and 'dislike' by signing in with a Facebook account. The photos can also be saved to the user's Apple device or shared on social media networks or by email.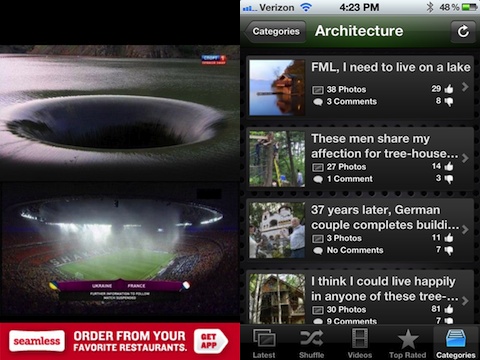 There is no music or any fancy graphics for this app, but the background and icons still look nice and clean. Hourly updates ensure a constant stream of new entertainment. Videos are streamed so that the user never has to deal with the video stopping halfway through to finish downloading. The sound quality for videos is also clear and loud enough for the user and their friends to hear the video that is being watched.
The Chive website dubbed itself 'Probably the best site in the world' and this is true for the app, at least if what a user is looking for is mindless entertainment and a break from work. The theCHIVE Lite app from Resignation Media, LLC, like the website, is an ode to all things random and funny. It's a reminder to never take things too seriously and to always 'Keep Calm and Chive On.'
This 3rd Party App is available at the Apple iTunes AppStore. Browse the full list of all AppStore apps filed under the AppStore category.