Create and share music videos with the Strum iPod Touch, iPhone, and iPad app. The chic, modern, and effective interface spotlights music videos that are simply created in a couple of steps. To get started with the Strum iPad video app, you can use a Facebook log-in or create an account with an email. The process is quick and efficient.
The Strum iPad app opens to a visually striking and unusual home screen. The featured video fills roughly two-thirds of the left side of a landscape screen. The video interface is a nice blend of YouTube, Tumblr, and Instagram. You can play the video with a touch, but you can also see the person who posted the video and social engagement. You can like, comment, and share to email, SMS, and Twitter. The right side of the stream has a matrix grid of featured videos with the one-touch navigation features at the bottom of the matrix. You can move from home feed, popular feed, shoot a video, notifications, and profile. The profile interface is just like Pinterest with a synopsis of followers, following, and your photo. I used a Facebook log-in, so I was surprised the Strum iPad app didn't pull across my profile photo. That has become a standard practice.
The process for creating your Strum iPad app music video is shockingly simple and fast. You can shoot a video from your in-app camera or select one from your camera roll. The video used is only 12 seconds. If you use an existing video that is longer, you will be able to edit it with agile gesture controls on a volume-style bar. The video fills the upper section of the screen, and the selection of photography filters with complementary filters are accessed by horizontal finger swipes at the bottom of the screen. There are currently 18 filters including several Christmas ones. The video filters include a wide range with appealing photo effects and music styles. The punk filter has a grainy, disjointed appearance with decidedly rocking background music. The Strum iPad app soundtrack is layered over the audio in the video you shoot. The visual effects add another unexpected dimension. The videos are fun and engaging. When you make a selection, you simply title it and select to share to Facebook, Twitter, or email.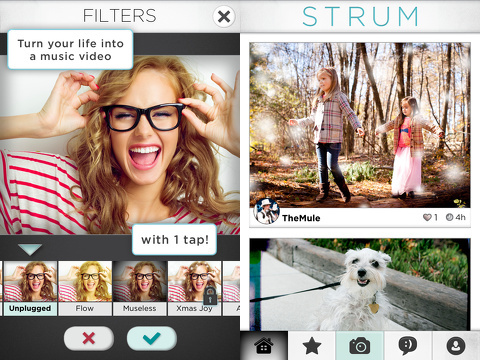 The Strum iPhone, iPod Touch, and iPad app is an exciting application of popular iOS photography filters, neat videography, and social networking with an emphasis on a specific topic.