Revisit exploits, ideas, and photos shared on your social networks and saved to your cloud photo services with the Timehop iPhone and iPod Touch app. The premise is strong and graphics are fantastic; but, the full functionality is just not achieved.
The Timehop iPhone app requires a Facebook authorization to get started. From the home screen, there is an acknowledgement that the Timehop iPhone app will never post on your behalf without your permission. The pop-up explains what you will allow–checkins, News Feed, profile, photos, events, status, videos, and likes.
After you complete the Facebook authorization, additional authorization measures are required. You confirm your email address, and, in the same screen, your Facebook friends who already use it pop onto the screen. In the next step, you can select additional social networks and cloud photo services like Twitter, Instagram, Foursquare, Dropbox Photos, and Flickr with finger taps. Then, you sync your photos from your Mac or PC. And, finally, keeping true to its word, the Timehop iPhone app requests your permission to post to Facebook that you are using it. You can opt out of this step.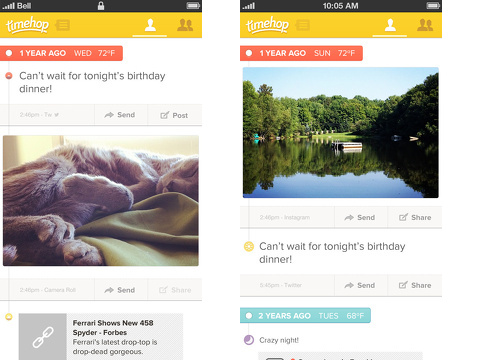 The Timehop iPhone app has a bright home screen with nice gesture-controlled navigation. The top menu bar contains a list icon, one person icon, and two person icon. You touch the list icon, and your notifications screen slides up from the bottom of the screen. You may access your settings through the notifications screen. The one person icon has your Timehop iPhone app timeline, and the two person icon contains your friends' shared stories. You can move between these feeds by touching the icon, or you can swipe right and left to switch.
The Timehop iPhone app timeline has a great graphic presence. The day's date is noted at the top of the screen. For each year, a bright band with number of years frames the information for each year. A list of photos or shared social statuses fill the screen with the source of the photo or item, as well as a chance to share in Timehop and other social avenues. When you share to your Timehop iPhone app social network, the feed has a lovely, yet familiar social networking iOS app interface. Each item has a chance to like and comment at the bottom.
The Timehop iPhone app is missing the all-important feature of selecting a date to revisit. Timehop time travel is strictly based on your current day. I think it would be a hit, too, if you could search for a status or tweet.
The Timehop iPhone and iPod Touch app has striking graphics and fantastic navigation, but the tools and functions are just not thorough enough to reach "must-have iOS app" status at this time.