The EyeEm – Photo Filter Camera iPhone and iPod Touch app brings a distinctive, yet familiar feel to social photography. The EyeEm iPhone app has excellent, striking feeds of photos sorted quickly and easily by friends and location. The in-app camera features gesture controlled filter and framing, and the editing process is streamlined beautifully. The unique tagging feature adds visual contrast and helps build themed albums that are much more easily searched than Instagram's discovery process of typing in the perfect hashtag. The EyeEm iPhone app does have one really big problem in its load time. In the amount of time it took to load three photos and share one to Twitter, I was able to watch a YouTube clip of the future King of England's first public visit. For social photography fanatics, it is definitely worth a try and a hope that the load time will improve in an update.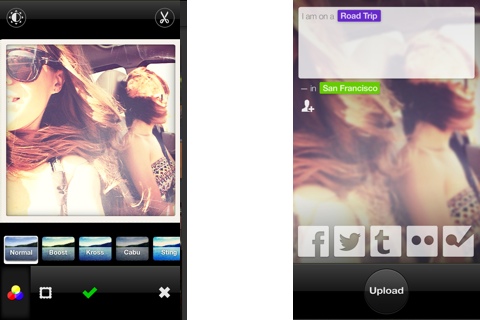 You sign in with Facebook or create an account with your email. Facebook authorization requests basic profile information and your friend lists. Any Facebook friends using EyeEm appear in a list on the next screen. You also have the chance to search your Twitter friends. Then, you can check out curated folks to follow. The final step is an authorization of location services to help you check out photos shared near your location.
There are two different ways to change filters and frames. The first and more interesting selection is to use gestures through the in-app camera. As you frame your subject, you swipe horizontally to change filters and vertically to change frames. You can also make these adjustments in a photo from your iPhone library in the photo editing screen by selecting an icon from the lower left corner of the photo editing screen. There are currently 17 visually intriguing filters and 13 frames. The frame selections in the EyeEm iPhone app are among the most modern and graphically sophisticated of photography iOS apps I have used recently.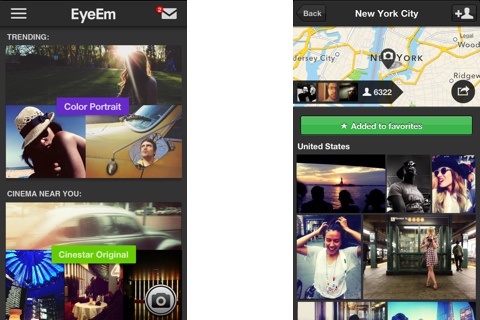 The attention to detail in the photography shooting and editing continues in the cropping and light adjustment features. The light adjustment icon is found in the upper left corner of the photo editing screen. You tap it, and your photo quickly adjusts. The light adjustment in the EyeEm iPhone app provides a more dramatic contrast than Instagram's feature. To crop the photo, you touch the scissors icon in the upper right corner. You drag the edges to the appropriate location and press the check icon when finished.
The tag feature of the EyeEm iPhone app is interesting and bold. Using your location services, you have a list of viable options highlighted in bright green boxes. Your city and neighborhood bars, restaurants, stores, and parks are included. You touch one you want to include, then you move to a new screen to write a short note. As you tap hashtag, the text you enter is housed in a purple box and added to that album within the EyeEm iPhone app's social network. Additional features allow you to tag your friends in an interface similar to Facebook. There is a list of five locations to share your photo with one touch–Facebook, Twitter, Tumblr, Flickr, and Foursquare. You can select as many as you would like at one time. Then, you upload it to EyeEm's social network and those you chose.
The left sliding menu accessed from the home screen gives you a chance to move between different feeds. You can access your profile, friends, discover, popular, and around you. If you want to check out photos of a music festival you are attending, you will find all of the photos posted near you. Instead of asking yourself, "Do I need to add fest or not?," you simply don't have to worry with the EyeEm iPhone app. It's easier to find relevant photos by location–even if you don't get the hashtag just right. Another cool place to check out in this sliding left menu is the missions feed. You can participate in photo competitions by EyeEm users.
The EyeEm – Photo Filter Camera iPhone and iPod Touch photography app is promising and exciting–once you get your photos loaded and shared.