Secret meets Tumblr with the Ku – creative social network iPhone and iPod Touch app. You create your thoughts, scribbles, and photos with intuitive, smart interface. Then, you share with your existing social networks and engage with the warm, witty, and inviting ku social network. The free download from the iTunes App Store is fun and engaging.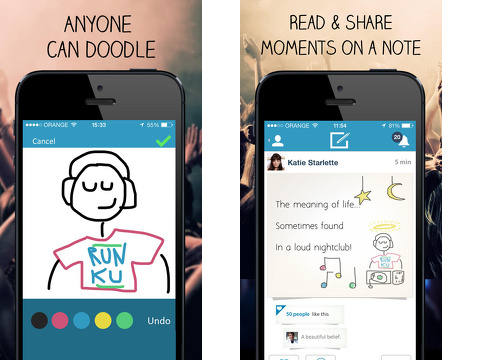 I created an account using a Facebook authorization. The Ku – creative social network iPhone app requires access to basic profile, list of friends, and custom friends lists. You authorize any additional sharing to your Facebook Timeline when you complete each ku.
You create a Ku with simple, step-by-step directions. You tap the icon with the pen, and you move to a screen with a keyboard. If you need inspiration, suggestions slide through the top of the screen. Next, you add doodles, audio, and photos, or you may choose not to add these items. You tap a color and draw on the screen. Or, you upload a photo. You add audio with a couple of taps on the screen. You can add categories like rants, funny, thoughts, wisdom, wtf, and more.
The feed is a nice blend of Secret and Tumblr. The simple square with text, doodles, and photos has social interactions listed below it. You are encouraged to build your Ku presence. Periodically, an offer to help you "become popular on Ku" pops up in your feed. Like Tumblr, blogging, and Instagram, you invite friends, follow, and interact with likes and comments.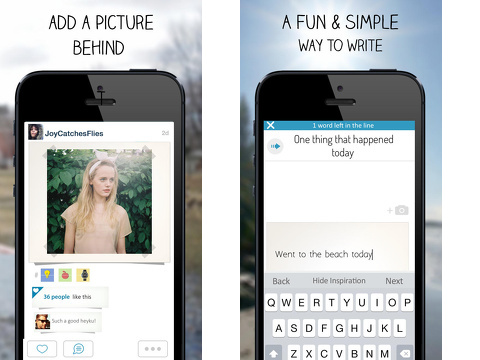 The Ku – creative social network iPhone app incorporates additional smart, whimsical elements. The categories have fantastic graphics. Funny is a mustache, and haiku poems are marked with 575. Your profile has a concise, appealing format. You touch the settings icon just below your name to make adjustments. Four icons lead to lists of your kus, likes, followers, and following. The editor's desk is extremely active, so they offer great options and inspirations to keep you ku-ing.
The Ku – creative social network iPhone and iPod Touch app is a fun experience. If you love Tumblr and Instagram, then you will want to try Ku.