The iHeartRadio iPhone app streams more than a thousand radio stations and gives you a chance to create commercial-free channels of your favorite songs and artists. The interface is nicely-organized and attractive, so you can quickly find the perfect soundtrack for your day.
With iHeartRadio's iPhone app, you can sign up with email or log-in with Facebook. You can customize your Facebook privacy settings in authorization, so you can decide to share to public, friends, or keep private. If you elect to share your iHeartRadio activity, your Facebook timeline will be updated automatically. You can also access your iHeartRadio selections online.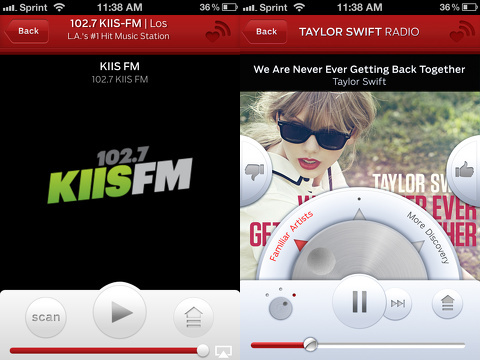 The iHeartRadio iPhone app has a clean, smart home screen. You navigate by selecting icons from the bottom menu bar. You can check out live stations, create a station, and access your stations with just one touch. The live stations icon opens to smartly categorized selections like music genres, talk radio options, and specific locations. You can search for an indie radio station in Los Angeles simply. With a touch, the station loads and you have music. You can create a custom station by touching a song as it plays.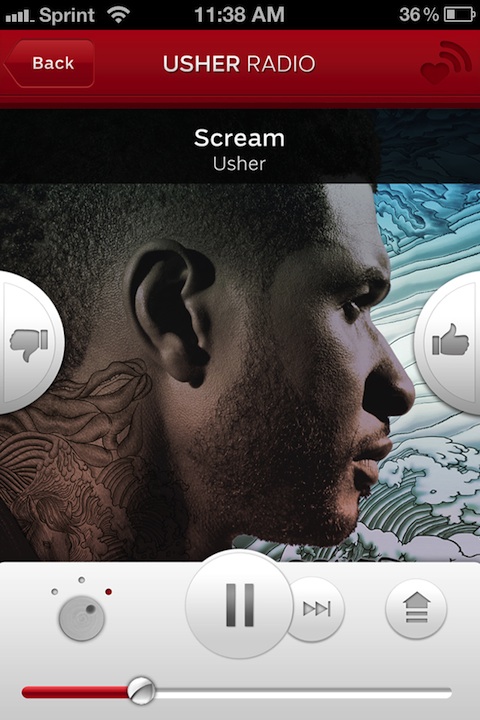 The easiest way, however, to create your own channels is to press the create icon. You enter an artist or song in the field at the top of the page. Press the artist or song sort option icon, and a list of relevant information fills the screen. You tap the song or artist, and a station is created and automatically plays. For each song, the album art covers most of the screen with a thumbs up or thumbs down to help drive algorithms for music selection. You can start and move to the next song. The arrow icon incorporates smart one-touch functions, like check out an artist bio, song lyrics, or purchase the song from iTunes.
iHeart Radio is not particularly cutting-edge, as it essentially wraps together existing radio stations and features similar to Pandora and Songza. But, as an iOS music app, it is solid–smooth navigation, easy tools, and free.