Star Walk is your realistic guide for star gazing from your iPhone. Star Walk covers about 9000 stars, planets and constellations and comes with Time Machine and Lunar Phase features.
Whenever you admire the starry night sky, Star Walk helps you to recognize anonymous heavenly bodies. Just find them on your interactive star map and tap i to retrieve useful information, such as celestial coordinates of these heavenly bodies. Don't be afraid to get overloaded by tons of specific terms. Star Walk is not for scientific use but for learning something new playfully. The cutting-edge graphics and smooth moving/scaling make your work with Star Walk pleasant and easy. You do not need a manual for using Star Walk because of its intuitive interface.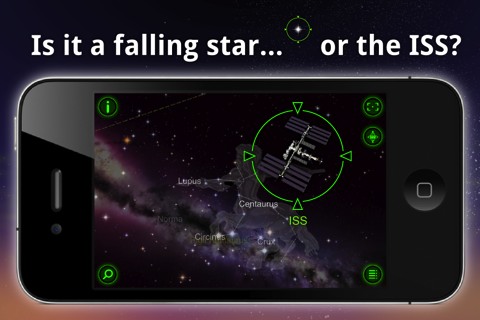 Do you like stars? Star Walk is a stellar augmented reality app that labels all the stars, constellations, and satellites you point your iPhone at. You can track the ISS, find out what constellation you've been looking at from your bedroom window and get a lot of exciting and educative information.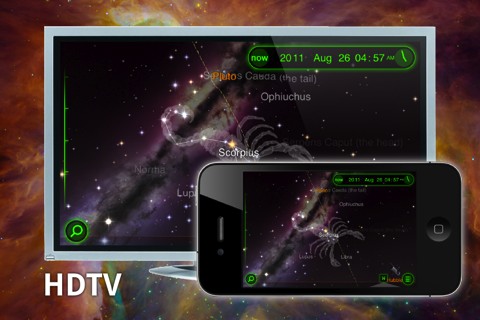 MAIN FEATURES:
– Augmented Reality for iPhone 4 and 4th gen iPod Touch
– Star Spotter – real time motion tracking tells you what stars are above you in the sky;
– Satellites Tracking – never miss ISS flying over your head again;
– Time Machine – see what the sky looks like at any moment in the past or future;
– Calendar of Celestial Events: plan stargazing without leaving your favorite app.
– Picture of the Day – stunning pictures from deep space;
– Night Mode – preserve your dark vision to see more stars;
– Search – wondering where Jupiter is right now? Arrow will guide you to it;
– Big Screen – connect a second display to view the sky on a big screen.
– AirPrint, Moon Phases, Info, View from any location, TelRad, Sharing, Bookmarks, and more!
– No internet connection required*
ATTENTION:
Please note that if you have iPhone 3 or 3rd gen iPod Touch, Star Walk won't be able to track your motions in real time.
This 3rd Party App is available at the Apple iTunes AppStore. Browse the full list of
all AppStore apps
filed under the AppStore category.