The Match.com iPhone app gives your access to the Singles dating scene and the over 15 Million men and women on Match right from your iPhone or iPod touch. Once you sign into your Match.com account on your iPhone using the free Match application, you will see 5 main tabs including Home, Search, My Profile, Viewed Me and Messages.
Match.com App Removed from App Store
In December of 2011, Apple pulled the Match.com app from the iTunes App Store for violating the new subscription payments policy set forth by Apple. If you are not familiar with how the new Apple policy regarding in app subscriptions work, basically, any app in the App Store must give apple 30% cut of their subscription fees collected. The Match.com app was going around this policy by providing a link to a website that charged customers for their subscription fees, and therefore not paying Apple anything. Here is what the Apple policy change regarding subscription payments in apps says:
Apple brings a new subscriber to the app, Apple earns a 30 percent share; when the publisher brings an existing or new subscriber to the app, the publisher keeps 100 percent and Apple earns nothing. All we require is that, if a publisher is making a subscription offer outside of the app, the same (or better) offer be made inside the app, so that customers can easily subscribe with one-click right in the app.
So now Apple and Match.com are in negotiations, as Match.com tries to figure out where to go from here. Match.com subscribers looking to use their service on the iPhone are left out in the cold for now, which doesn't help the company any more in selling their pricey subscription going forward. As a not so optimal alternative, existing members can view their profile via a website optimized for the mobile devices by going to http://mobile.match.com from Safari on the iPhone or iPod touch.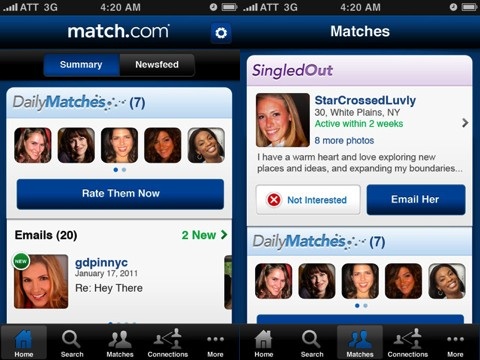 Match.com App Features Included
Home:
Here you will see an overview of all the activity on your account including Inbox message counts, Winks, Connections, Favorites, and quick snapshots of recent contacts made.
Search:
The Match.com iPhone app can suggest profiles close to your current location if you allow it to, under the connections you will see a list of singles close to you. Tapping on any profile brings up a full view. Here you can view more photos, wink or send messages, and read more profile information.
My Profile:
Shows your profile and lets you quickly and easily edit your profile information. You can even add a photo to your profile by taking a photo using the iPhone camera and instantly uploading it directly to Match, or choose from an existing pic.
Messages:
Read your emails categorized into Inbox, Sent Items, and Winks.
Note: This app requires registration and a paid subscription.