Backflip Studios is a prolific developer of free-to-play games for iOS. All of the studio's apps are now free and ad supported with a premium upgrade option. Their newest such application is DragonVale which is available for the iPad (iOS 4.1+), iPod touch (2nd gen+) or iPhone (3GS+). For this review, I played DragonVale on both an iPad 2 and an iPhone 4S.
Backflip intends DragonVale to compete in that "freemium" market of simulators that have us managing zoos, harvesting crops and leading a mafia family. In this game, the player controls a floating island — eventually a series of islands — where dragons live. Dragons range from ice to fire breathers, and it's the player's responsibility to breed them, hatch them, nurture them and so forth.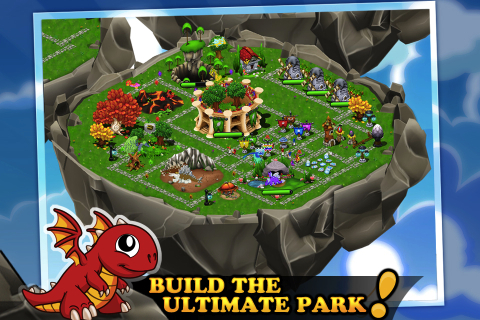 With simulation-style games being so popular of late, many of them have gotten quite complex, and most new entries try to top the field with some dazzling innovation. DragonVale, surprisingly, is not that application. Instead, it's a mixture of good elements from a bunch of different games. On one hand, the app is stable and a lot of fun. On the other, it often gives you that been-there-done-that feeling.
Keep in mind that if you're as big a fan of such simulations as we are, then that familiarity is not a problem. In fact, due to our experience with these games, we were playing this one like a pro almost immediately. The learning curve was small, and DragonVale got addicting fast. As the dragons age, the platform has a Pokémon quality that kids will love and adults will like far more than they care to admit.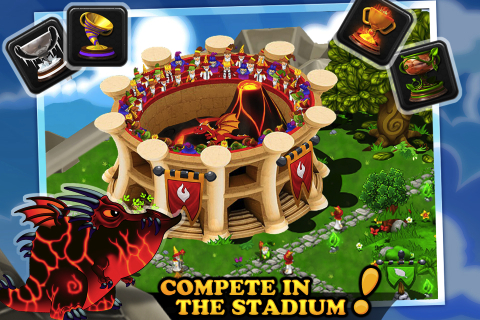 One of the game's best draws, also like Pokémon, is the collector aspect: You want to have one of each type of dragon. The difficulty there is that you can never be sure what type of dragon will hatch until it actually does. When that egg starts to shake and the crack forms, there's tangible excitement as you wait to find out if you finally got that coveted breed. It's the little things like that that make DragonVale work so well.
Since DragonVale is mostly a hands-off sandbox experience, there isn't much to the controls, other than moving around the screen to monitor a particular area. The menu system is dense, but well laid out and very responsive. The music and sound effects are of high quality, but there's not enough diversity for our tastes. You can disable the music, but you need the sound effects as notifications to hatchings and the like.
DragonVale is fantastic as an iPod touch and iPhone app. Eventually, you'll have many dragons, and the 9.7-inch screen does come in handy at times, but DragonVale is well suited to the smaller screen. There's not a lot of action off-screen, and when something of interest does happen elsewhere, DragonVale produces handy go-to buttons that zip you right over to it. User-assignable go-to buttons are on our wish list, however.
The low challenge may frustrate hardcore gamers, and as simulation apps go, this iPhone app has low long-term value because there's nothing left once you created all the breeds and collected all the islands. Nevertheless, we had a great experience during this review, and as an ad-supported free app, we'd recommend to anyone with a little time to kill.