Crystal War: Blood Field by Digitalfrog is a side-scrolling, real-time strategy game for iPhone and iPad with a strong resource-harvesting element. Digitalfrog markets it as a 'battle sim,' but that narrow label seriously undersells the diversity of complexity of this experience. Blood Field is available as an iPad, iPod touch and iPhone app, and for the purposes of this review, we played it on an iPhone 4S.
For those familiar with Crystal War, Blood Field picks up where the original left off. Blood Field also includes the entire original campaign, which is a nice touch for those who've never played it, or for those like us who've played it, but would like to try it again with the new enhancements. What really sets Blood Field apart, however, are its two new modes that let you play against human opponents via Wi-Fi or Internet.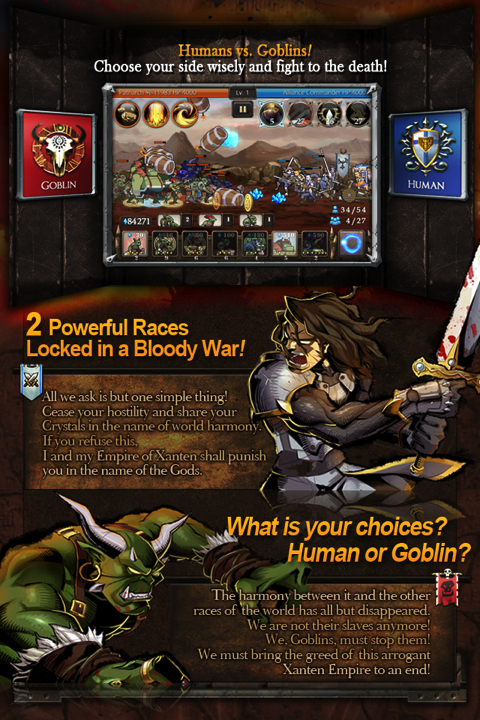 Because of our experience with Crystal War, we were able to jump right in and start playing, and all of the new elements integrated seamlessly with all of the original elements. New players, however, should expect a learning curve. This is a difficult game with a lot going on, and don't be surprised if the whole thing seems hopeless early on. If you stick with it, Blood Field will reward you with countless hours of gripping solo play.
The setup for this fantasy RTS is a classic: humans vs. goblins. Digitalfrog advertises it as "3 exciting modes with 88 different stages," but it's actually a lot more than that. There's the original campaign and a bigger all-new campaign, and both of those are playable as both goblin and human races. In multiplayer mode, it pits you against one live opponent, either playing the standard campaign, or playing a castle defense variant, which is a lot of fun.
Although we haven't played this particular version of Crystal War Blood Field on the iPad yet, we have used the larger display for the original, and it helps. Crystal War is probably at its best on a 9.7-inch screen in landscape mode because you have much more room to see your troops entering the area. Having said that, most of the important action takes place in a very small area, so the experience works fine as an iPod touch or iPhone app as well.
The Blood Field application is perfect for the RPG and RTS gamer because it is something that you can sink your teeth into, and it will continue to reward you for a very long time. Since the app is often available for as little as $0.99, that is one heck of a value, and a purchase we'd recommend to any gamer. The only reason we don't give this review a full five-star rating is that the application doesn't have a built-in matching service, which would make this one of the all-time great iPhone games in our opinion.