Raid Leader is a new app for iPhone and iPad from developer Crescent Moon, a game entry in the Real-time strategy genre that is often left neglected on iOS devices. Several of the remarks quoted in the publisher's description of the app were very positive, and images of the gameplay made it even more enticing. I have the latest iPod touch and it's been starved for games lately, so at $0.99 the app was worth a shot.
Set in the land of Eldentir, Raid Leader follows a very basic premise. It begins with an intro describing how a demon king named Belfanor unleashed his demons across the land, and now it's up to you, the gamer, to save Eldentir. You control a Knight, a Hunter and a Priest throughout the title. The Knight is used for close combat and can withstand loads of damage, while the Hunter attacks from a distance with a bow and the Priest heals the two. Throughout your adventures, you earn gold for victories which can then be used to buy upgrades. It's a simple enough premise, and more than sufficient for an iPhone app.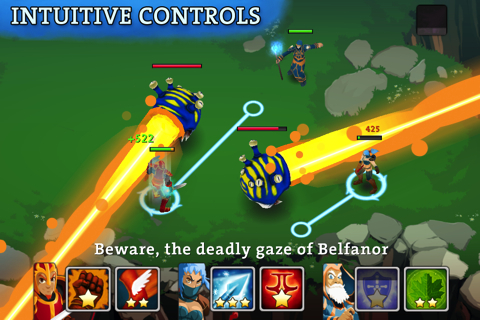 At a glance, Raid Leader looks promising. The graphics are decent enough, the mechanics rely on simple dragging and dropping, and upgrades are available for your characters. It actually seems like it might be a lot of fun.
Unfortunately, it turns out that there just aren't a lot of positives to take away from Raid Leader. The levels consist of choosing points on a map and then being thrust into a small arena. The space you start a battle in is the space you finish in, as there's no overworld to move around in. Most levels in the application have one boss, and you'll set your characters to attack and move them around appropriately. In several instances, I was able to set up my attacks and then set the iPod down. I had to move my characters around, but that's mostly the extent of the gameplay after setting the attacks up.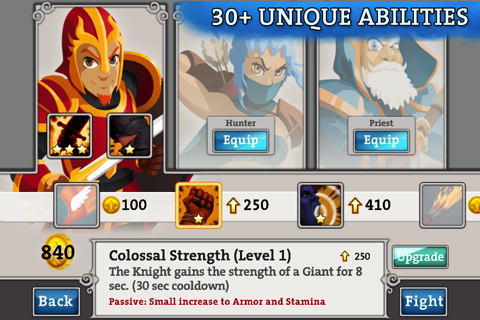 This lack of engagement turned out to be a common issue with Raid Leader. While playing Raid Leader for this review, I never felt compelled to keep moving forward. Victories didn't inspire me and losses didn't make me want to try again. Perhaps adding some other element of story or placing the game in a larger map would make it more enjoyable. It's mostly boring as it's currently set up, and that's a shame because it has a lot of potential.
At $0.99, die-hard RTS fans might consider giving Raid Leader a whirl. If you're only a casual fan of the genre, then you likely won't get much value out of the game. The truth is, unless some changes are made so that the game features more cohesive storytelling, there are a lot of better applications on the App Store for you to spend your money on.