Eufloria HD by Omni Systems is an intriguing iPad game that provides an unusual take on the RTS genre, and it's a port of a PS3 game from last year, which was itself a port of a PC game. The app requires iOS 4.2 or later and either generation iPad. For the purposes of this review, we used the entry-level iPad 2: 16 GB and Wi-Fi only.
What makes Eufloria HD stranger than most RTS experiences is that it uses Dyson trees and seeds rather than troops and resources. Even more odd is that the game actually plays down the action aspect, and instead, it accentuates the audio and visual elements of the program. In other words, Eufloria HD is as much an audio-visual experience as it is about the goal-oriented gameplay.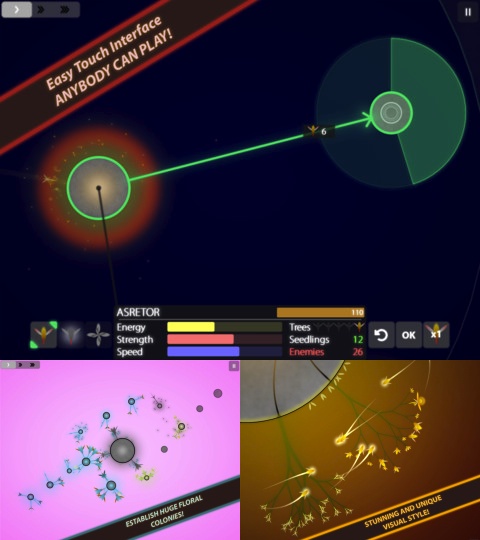 Eufloria HD has twenty achievements for Game Center users, and three core modes: story, skirmish and dark matter. Story mode is the default mode, and it comprises five chapters of five stages each, for 25 levels total. As you progress through those levels, you'll unlock the other two modes. Dark matter mode is essentially story mode redux with the difficulty amplified considerably.
Skirmish mode, on the other hand, is a series of standalone maps — ten in all — that offer a more combat-oriented approach to the game. In story mode and dark matter mode, the goal is to send seeds out into space to colonize asteroids. Each colonized asteroid produces more seedlings, which you can then send out to explore farther and colonize more. You'll have to compete with other colonies along the way, and sometimes, that competition results in war. In skirmish, you're right on top of each other, and the war starts immediately.
As Eufloria HD unfolds, the audio-visual experience is truly impressive. The soundtrack is gorgeous, and the sound effects are crisp and diverse. In terms of visuals, the application uses a watercolor palette that gives it a very distinct and stylized aesthetic. For the first hour or so, the experience is almost hypnotic, and we felt a bit like the kitten that sits mesmerized in front of the aquarium.
When the oohs and aahs faded, however, what remained was an iPad game that wasn't terribly fun to play. The allures of any RTS challenge are the breakneck speed, artificial intelligence, and diversity in strategy and tactics. This application really has none of those things. The pace certainly gets fast, but you never really feel any pressure. Likewise, the opponents get more difficult, but they do so through insane bonuses rather than effective AI that was able to outplay us.
The other big issue with this iPad app is wait times— as in waiting for enough seeds to send out into space. As Eufloria HD progresses, so do the wait times. The delays can get so long, in fact, that we're surprised that it made it through the beta process like this. At times, Eufloria HD, despite being the third iteration of the game, feels more like a proof of concept than an actual game.
As a PS3 app, Eufloria was a unique offering, and it was welcome improvement to Dyson for the PC because it tweaked gameplay and added a range of features. A year later, it no longer seems that interesting, and it doesn't stand out nearly as well in an iOS game library that includes numerous oddballs and strange takes.
The biggest issue with Eufloria HD is that there's not a lot of replay value, even with skirmish mode, due to a lack of gameplay diversity. If you've played the PS3 version, there's almost nothing here for you. If you haven't, then Eufloria HD is certainly worth trying, but perhaps not at $4.99.