Backflip Studios has done it again with the newly released Ragdoll Blaster 3 game for iPhone. I have played earlier episodes of this app and found this latest version of the app to be much more enjoyable. While I typically find my review of iPod touch and iPhone apps to be more negative in nature, this app offers so much more than its previous versions.
The Ragdoll Blaster 3 iPhone app is a low intensity game, but I found it addicting from the start. The controls seem to be spot on and the obstacles moderately challenging. The concept of adding a piece to a puzzle after each completed level adds one more enjoyability factor to the game. The levels in which the targets are launched, similar to clay pigeons, is another ingenious addition. The different levels in this app were well thought out, instead of just being thrown together, like I have found in similar apps.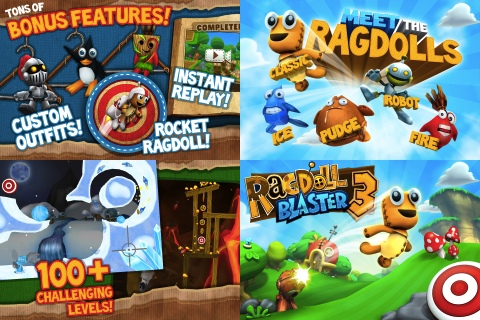 Graphics in Ragdoll Blaster 3 are well developed and much more crisp than similar apps. I found it much easier to track the trajectory of the Ragdoll in this version due to the more crisp graphics. The audio is acceptable, with the various sound effects and varying levels of sound during the Ragdoll flight. However, the background tune does get a bit monotonous after a time. The ability to connect with Facebook, Twitter and GameCenter is just one more intelligent feature. That feature is almost mandatory for gamers like myself who enjoy sharing their accomplishments.
Having an unlimited amount of ragdolls to launch, makes accomplishing your goal even easier. This would hold true even for the most novice of gamers. I also found that the loading speed on this version is considerably faster than previous versions and I found this to be true compared even with other similar games. I am finicky about changing things in the games I am playing, so having the ability to buy different, themed ragdolls is the perfect feature for me! For the nominal price, this app is worth downloading and trying, even just for a few rounds.
On the negative side, Ragdoll Blaster 3 is not for someone with little patience, as it takes strategy and thought to launch the ragdolls in the proper direction.
I would highly recommend this game for the younger 18-24 crowd. Also, if you have a more advanced toddler, this app would also be enjoyable for them. Overall, Ragdoll Blaster 3 deserves a two thumbs up and worth the $0.99 price tag.