Draw Something for iPhone is a hot download from the iTunes store worldwide. Essentially, Draw Something is just like playing Win, Lose, or Draw without the 1980s hair and ill-fitting khakis of the game show.
Like Instagram, Pinterest, and LinkedIn, your Facebook friends are the source of your greatest number of opponents. You sign in through your Facebook account or via your email. I am a fan of the interface for the registration process. You tap the area on the screen to add your email or credentials, and a pop-up appears with the iPhone keyboard for your input. You don't have to fiddle with scrolling or multiple gestures to get started quickly and easily.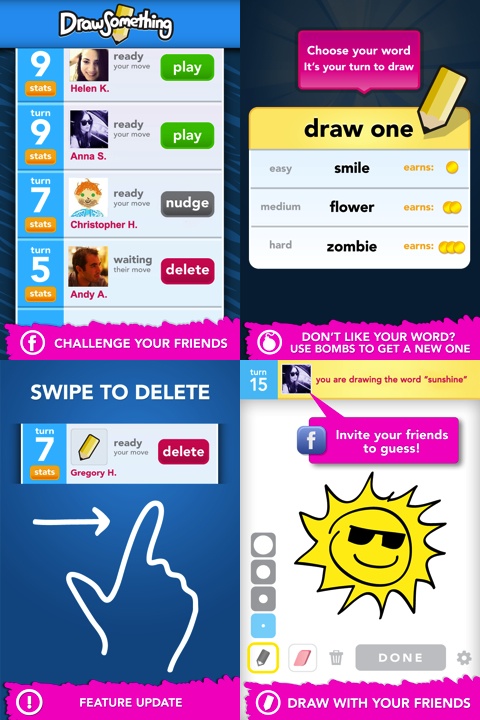 The Draw Something iPhone app's home screen is easily navigated; however, the visual impact leaves a bit to be desired. You access settings via the top menu button. And, you'll want to make that a first stop, in order to turn off the sounds. They're not pleasant sounds–best described as short, painfully-pitched blips. The visual quality of the graphics is dated. The graphics just don't pop and enhance your experience. An upgrade in visual impact would add more excitement.
You can choose to create a game with a friend or play with another Draw Something user around the world. You are given the choice of three levels of words. You choose one, then you draw it on the screen. There are a couple of colors from which to choose. With nice, responsive finger touches and swipes, you select your color of finger paint and draw the word chosen. In the game I just played, I chose the easiest word "cake." I'm not particularly good at drawing a monkey or a catfish. It's fun to draw on your iPhone screen. Also, it's impressive the Draw Something iPhone app has such precise interface.
When complete, your opponent has a chance to guess. The experience is nice, as it is a video of the drawing process. So, you're not just looking at the finished drawing. Instead, you watch your opponent's every move. Then, you get to select from several letters to complete the word. You earn points, but this is more of a fun, Hangman type of game. It's not for fierce gaming battlers. It's fun, accessible, and low-stress.
For $0.99 you can upgrade your Draw Something iPhone app's features. You purchase 2,000 more words, and the Draw Something iPhone app will become ad-free. If you will spend anytime playing this fun game, then the investment is minimal for the enhanced quality of the visual experience.
Draw Something is a fun game app to download to your iPhone. It's a neat way to engage and enhance your social networking and gaming experience.