Zoom
User Reviews

Epic Games will release a new app for iPhone and iPad gamers called Infinity Blade: Dungeones later this year which aligns with the launch of The New iPad to showcase its new high performance A5X chip and quad core graphics processor.
Epic Games President Dr. Michael Capps stated what they are aiming for with the New iPad. "With Infinity Blade: Dungeons we continue the tradition of melding exciting gameplay with beautiful, rich worlds powered by Unreal Engine technology; and Apple's new iPad allows us to push the boundaries even further."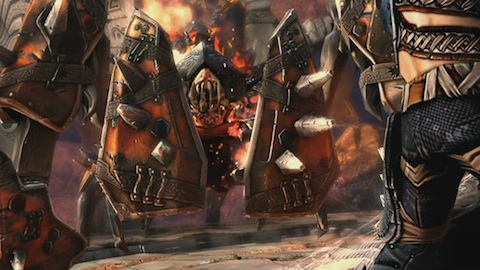 In Infinity Blade Dungeons expands on the original Infinity Blade game for iOS. Here you will play as an apprentice weapon-smith who serves the Master of the Forge, sent forth on a perilous quest to forge the one thing the Deathless will come to fear most: the Infinity Blade. With a dynamic camera system that takes you in and out of battle, weapon crafting and exploration, Infinity Blade: Dungeons is an innovative take on the dungeon-crawling experience while also the Infinity Blade universe.
For now check out the Infinity Blade: Dungeons trailer below.
Here is a video demo of the Infinity Blade: Dungeons app on the iPhone