A wormhole sucks angry birds into a strange galaxy placing them in a war with space pigs. Angry Birds Space for iPhone has arrived and you can download it for only $0.99 from the App Store. Angry Birds Space for iOS is the newest in the series of Angry Birds games from Rovio. Overall Space is nothing short of another blockbuster game for Rovio with the addictive and entertaining qualities you would expect. Background music is surreal and intense, which brings back memories of Star Wars & the Twilight Zone with a dash of Angry Birds. There are 4 planets (with another one coming soon) and a total of 60 levels to go through. Oh and for an added bonus, you can now play a few hidden old school games inside Angry Birds Space thanks to little golden eggs. More on these easter egg levels below.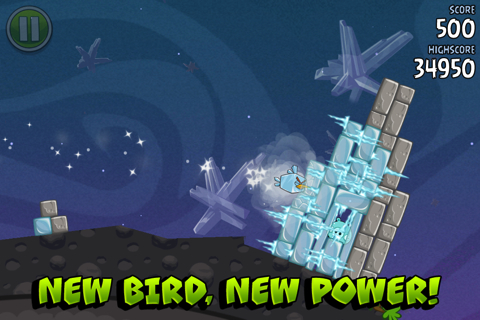 One major addition in Angry Birds Space is that you can launch birds in various directions, since they sometimes are thrown into the orbit of a planet and rotate in circles inside its Zero-gravity zone. Finding the right release angle can be both fun and challenging, and they've done a great job of matching elements of space to the game's physics. Mastering trick shots will be a tough task.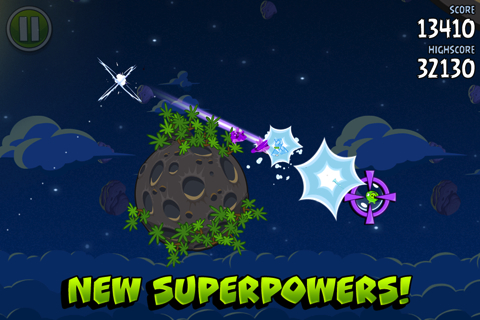 The first few levels could feel too simple, especially for die hard Angry Birds fans. But before you know it you'll be launching birds through multiple planets. Some of the pigs are camped out in space as opposed to inside the planetary ozone. This means you'll actually have to shoot birds to leave your planet's orbit to kill those pigs, which adds a new level of complexity. The five planets are Pig Bang, Cold Cuts, Danger Zone, Eggsteroids, and another soon to be released. There's a new bird as well called the Ice Bird. Throughout the game you'll earl Space Eagles which let you launch furious attacks on space pigs. You can also buy these Space Eagles as in-app bundles. The Danger Zone level is another $0.99 in-app purchase.
Eggsteroids: These are little easter eggs in Angry Birds Space that open up hidden mini games. Once you hit the golden orbs, you are teleported into these secret levels that have a series of retro games like Breakout, Super Mario Bors, and Space Invaders. You really have to keep a keen eye out for the egg steroids, or you'll miss them. Tip: Look for them in the bushes! Here are a few screenshots of where you'll find them, and be sure to post any you find in the comments below as well. We will update this section with all the Eggsteriods as we find them.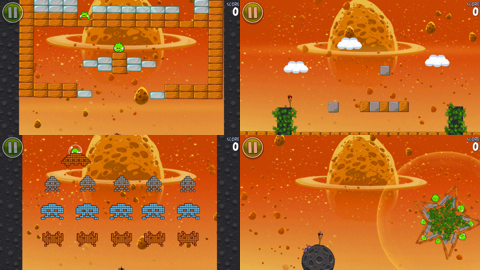 Table of all Bonus Levels found in Angry Birds Space
| Location | Bonus Level |
| --- | --- |
| World 1 – Level 9 (Pig Bang) | Space Invaders |
| World 1 – Level 20 (Pig Bang) | Super Mario Bros |
| World 2 – Level 13 (Cold Cuts) | Breakout |
| World 2 – Level 25 (Cold Cuts) | Bubble Bobble |
| World 2 – Level 28 (Cold Cuts) | Star |
If you know of others please post them below.
To drum up publicity for Angry Birds Space, Rovio teamed up with NASA and the International Space Station. Don Pettit on board the International Space Station has posted a video that demonstrates space physics in the real world. If you're a fan of space travel and NASA the video itself is pretty amusing and well worth watching.
Angry Birds Space is available not only for iOS devices like the iPhone and iPod touch but also for Android, Mac, and PC. The tag line for the game is:
"One small fling for a bird, one quantum leap for bird kind."