When I heard of the new Air Wings game using paper airplanes for iPhone and iPod touch, I thought the concept alone made it worth checking out. Air Wings is a cool little iPhone app that you can play online with your friends. In this app review we'll look at what this free game has to offer and how it all works.
Air Wings is based on a pretty simple, fun, and light-hearted concept. You and your friends throw paper airplanes at each other and battle it out. The application plays like your standard 3D airplane battler but has a light-hearted and fun atmosphere instead of a serious warfare thee.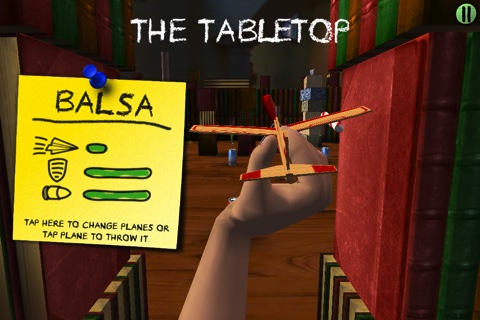 This application is free to try. You can upgrade to utilize different types of planes and unlock additional levels. If you have some friends to play with regularly, you'll definitely want to invest a couple of bucks for the available plane packs add-ons via in-app purchases.
How do you control the paper airplane? You might be wondering how can it be possible to control a paper airplane after throwing it. That silliness, however, is part of the charm of this little flight app. The controls are simple, tap to launch your plane and then tilt your device to control it.
iPhone apps that use the accelerometer are often hit or miss. Air Wings is a hit! The controls feel natural and react at a good speed. I didn't feel that my plane over corrected to the movements I made on my device. Firing a weapon while steering was not overly challenging. In fact, I only crashed when I sped up to fast and ended up in a crowded area.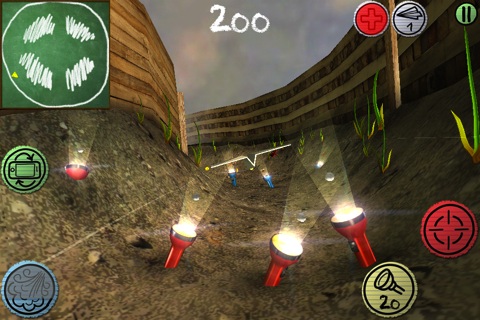 Crank Up Those Tunes! Air Wings music is worth of mentioning in this review. The fun reggae and surf tunes put a smile on your face. Sound effects are the standard action game fare. There isn't anything amazing in the sound effect department, but things make the noises you'd expect. I particularly liked the sound of my plane disintegrating after crashing.
Solid Graphics. The 3D graphics in Air Wings are nice. Although some of the levels look a little dark and dismal, they don't distract from the gameplay. I get the impression that the entire scenario takes place late at night in a warehouse where bored workers have created a obstacle course of crates, used Chinese food take-out containers and other junk. These workers also have some sort of power to control an in-flight paper airplane. Overall, the concept puts a smile on my face.
Playing against friends is fun in Air Wings, although a few times that I attempted to play, there were no random match-up players available. Hopefully, Air Wings will catch on and more opponents will be available.
Air Wings offers some good laughs and solid iPod touch and iPhone mechanics. Thankfully the game is also compatible with the iPad. Hopefully, more users will start playing it and more features can be added. Check out this fun little title from Pangea Software today in the App Store.