Small Green Hill brings Ball on a Wall to your iPhone and iPod Touch with today's launch of Ball on a Wall Pocket. The premise of the game is deceptively simple. You create platforms and walls, while you lead a bouncing ball to points and new levels. Ball on a Wall Pocket is extremely challenging and potentially addictive.
Ball on a Wall Pocket for iPhone and iPod Touch has a quick tutorial that leads straight into your gaming experience. It seems terribly easy. You build and remove cubes to construct platforms and walls to prevent your ball from dropping with touches and finger swipes. You also move the ball with your finger. The ball can bounce three times as well to help you gain height and length in movement. The gesture controls are extremely responsive, so you must create deft, agile, and smart movements.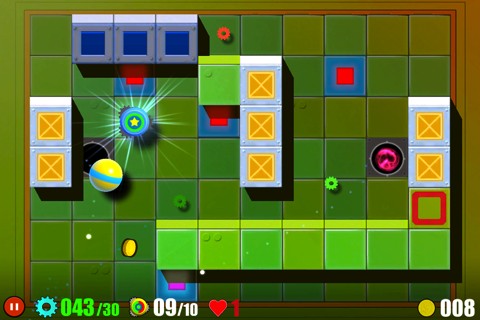 As you build platforms and move your ball in Ball on a Wall Pocket, you have to maintain a steely focus and resolve. You don't have a lot of time to think and develop a strategy for constructing platforms, as the ball is constantly moving. The cogs where you need the ball to intersect are spinning. There are also treacherous obstacles to avoid at the same time like turrets and electric blocks. There is a lot of action contained on the iPhone and iPod Touch screen.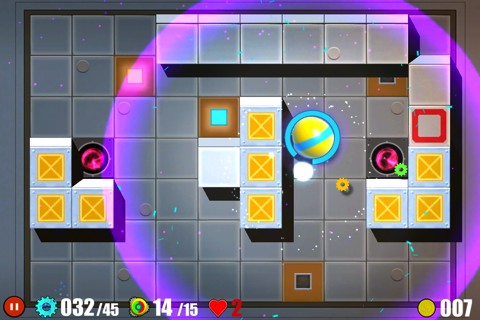 It is this quality that makes Ball on a Wall Pocket a surprising challenge. My sons and I played the game, and we found it more difficult to keep the ball from falling off the sides of the screen. Your focus tends to be on getting the ball to the cogs to earn points and to keep the ball off the ground. However, containing the ball's movement is the true obstacle to overcome in order to be successful with Ball on a Wall Pocket for iPhone and iPod Touch.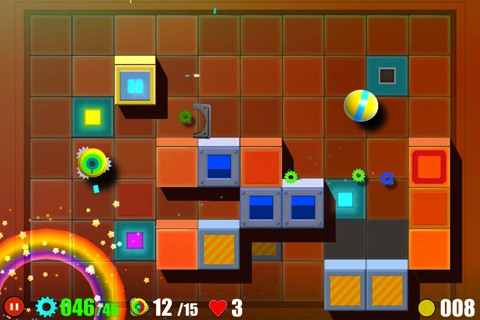 Ball on a Wall Pocket for iPhone and iPod Touch has 10 worlds and 50 levels to keep you stimulated and coming back for more. Small Green Hill has developed Ball on a Wall Pocket, so no level is the same twice. When you start the game, you can slide your finger across the screen to view and access all of the levels. As you advance from one level to the next, you can monitor your tally of points and successes in the previous level. As you earn points, you can unlock additional features like new ball skins.
If you enjoy complex games, then Ball on a Wall Pocket for iPhone and iPod Touch creates an excellent experience for the reasonable $0.99 App Store price.
This 3rd Party App is available at the Apple iTunes AppStore. Browse the full list of
all AppStore apps
filed under the AppStore category.