Success Story is a light arcade sim-style iPhone game by G5 Entertainment. Originally, the app was available as a free trial that required paid upgrade to the full version. That's no longer the case, and Success Story (Full) is available free. Both apps require iOS 3.0 or later and can be played on an iPod touch or an iPhone. For the purposes of this review, we played Success Story on an Apple iPhone 4S.
The core goal in Success Story is to manage a series of fast food restaurants. The player manages them by filling orders as accurately and quickly as possible. The happier the customers are, the more profit the restaurant earns, and the quicker the player moves onto the next level. There are 46 levels in all spread out over ten distinct restaurants.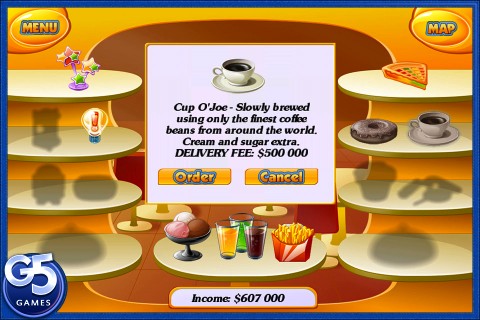 Gameplay and controls are rather straightforward. The app gives you one primary prep area. In addition to that prep area, there are 11 more where ingredients pop in and pop out. To the left of the prep tables is a counter where customers arrive and indicate what they want via thought bubbles.
The player can only make one item at a time, and there can be as many as three customers standing at the counter, as well as those in the queue you can't see. Each dish must be built in a particular order. So in addition to balancing the needs of various customers, you have to snatch the ingredients you need when they become available.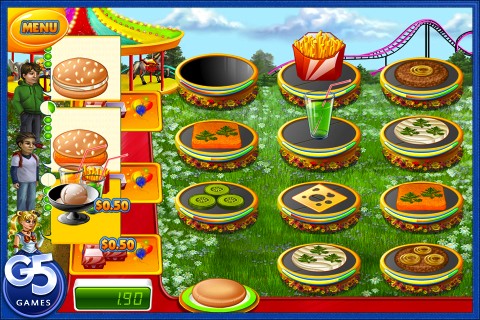 It sounds simple enough, but it doesn't take long for the application to get rather hard. Customers soon demand more and demand it faster. Customers come in a wide range of depositions, which get worse the longer they're standing at the counter. When they get impatient, they storm off, losing you both time and money. Meanwhile, ingredients start flashing in and out at a faster rate.
Total profits dictate level, but they also serve another purpose: restaurant upgrades. The player can use upgrades to add recipes, slow time and even access bonus games. Bonus features will crop up at random and give the player an opportunity to win additional money by achieving secondary criteria. At the end of each stage, there's also a "boss" character, which provide the greatest challenges.
Success Story is a fun arcade game with a splash of sim-style strategy. Add a half star if you love arcade games, or knock off a star if you don't. As mentioned in the intro, we performed the review with the iPhone app. The screen is quite crammed on the small screen of the iPhone and iPod touch. It's not bad, but if you like the experience, we're sure that you'll enjoy it more as an iPad application.