Clear Vision (17+) by FDG Entertainment is a sniper-themed first person shooter (FPS) app for the iPhone, iPod touch and iPad. We conducted this review using an Apple iPhone 4S. It's worth noting that there is also an application called Clear Vision (12+). The 17+ version reviewed here is bloody and uncut. The 12+ version of Clear Vision is essentially the same program but intended for a younger audience. This application is also optimized for iPad playback using the same gameplay and graphics.
The Clear Vision story is a bit absurd and centers on Mercy Tyler, a supermarket employee who becomes a professional hitman after being fired. In addition to the paid assignments Mercy accepts, there are jobs that involve his personal story and the ongoing unraveling of his life. Some users may find the subject matter unsettling, and parents may want to try both versions before letting the kids play.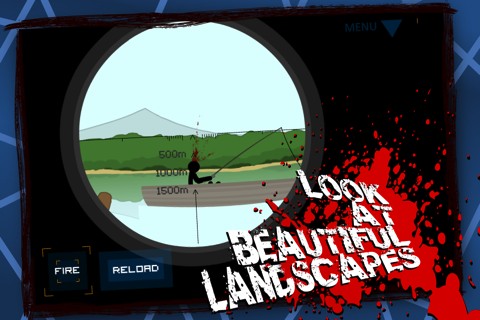 If you can look past the unsettling subject matter, Clear Vision is a superb sniper-style game. In fact, we'll go as far as to say that it's the best one we've ever played on a mobile device or even any handheld platform. What may surprise you is that the graphics are not particularly stunning. People are essentially stick figures and the backgrounds are basic in a South Park way.
After a cartoon introduction that shows Mercy Tyler's story so far, it all begins with a tutorial at a shooting range. There you'll learn to target, fire and reload as you practice on cans that that are as far as 1,500m away. The tutorial also introduces the concept of adjusting for wind. The tutorial is well done and succinct, and within less than a minute, it teaches you all of the essentials.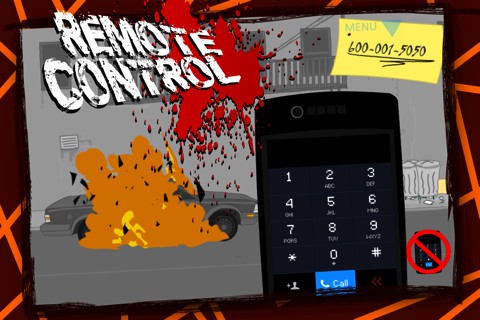 Once past the tutorial, Clear Vision feels a lot like a Grand Theft Auto. Your house is your base of operations. It's here that you'll receive notifications, accept assignments, organize your weapon collection and so forth. When you exit the house, the game presents you with a top-down street map, and you use the map to drive to hit sites as well as locations like Big Ben's Weapons and Underground Boxing, where you can fight and even bet on yourself to earn some additional cash.
Although the GTA elements make the app engrossing, the sniper mode is what makes it worth playing. When we started the review of this application, we had some doubts about how they could make the sniping aspect interesting over the long term. They pull it off by making the missions diverse and creative. For instance, some hits need to look like accidents, and those missions are essentially puzzle boards where you'll have to figure out how to kill without a direct hit. Clear Vision is a blast, only $0.99, and we're certain that we'll be playing this iPhone app for a long time to come.