Solitaire Pro by TicBits Ltd brings this popular card game to your iPhone and iPod touch. Solitaire Pro (with a smiley) integrates with the Game-Center allowing you to post your scores and compete against your friends.
Interface
The Solitaire Pro interface is very basic in appearance. There really is nothing special about it. It is a green screen with cards along the top. On the bottom toolbar you see your timer, score, Undo button and the Menu button. The Menu button takes you to the main screen. Here you get to start a new turn, set the options, get instructions on how to play and view your statistics. Under the options screen you change your card options and toggle sound off/on. The Statistics screen shows your overall turns won, lost, playing time, fastest turn, slowest turn and top 100 scores on your device.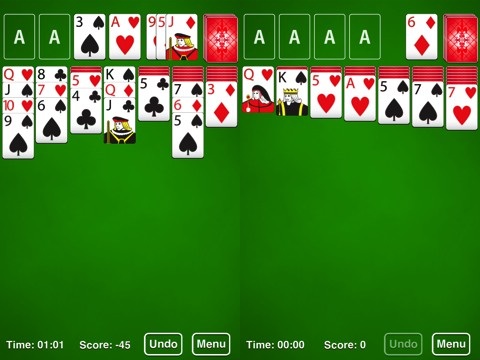 Graphics, Sound & Transitions
The graphics are quite plain but in this instance, you don't need fancy graphics that interfere with playing this app. There is no background music when playing your turn. The only sound effects are when you pick up a card and move it. Transitions for Solitaire Pro are smooth. Once you get the cards to a point where it is obvious you will win, the app auto completes the turn so you don't have to drag all the cards to the ace stacks.
Gameplay overview
Solitaire consists of seven stacks of cards with one card face up. You create straights of cards with alternating colors. In the top left corner, you place the aces face up. As you uncover the next card in the sequence, you place it on top of the ace in ascending order. Next to the aces is a stack of cards which you use to play on the bottom stacks. You have two options for this stack: one card and three cards. One card makes it easier to complete the game. Using three cards increases the difficulty. When you make a mistake, you press the "Undo" button to undo your last turn.
Overall, Solitaire Pro is a great, simple iPhone app. It does not need to be fancy or have amazing graphics to provide a clean interface for playing cards. Solitaire Pro is free to download from the iTunes store. It is a good little application to keep on your iOS device for when you are bored and need to be entertained. My only complaint about Solitaire Pro is the constant Game-Center reminder to log in if you do not use this service. You continually have to close out this push notification to play.
An iPhone 4 running iOS 5.0.1 was used to test the Solitaire Pro app for this review.