Casino style iPhone apps have been popular lately. Slotomania by Playtika is an iPhone app, also for the iPad and iPod touch, that gives you a series of online-style slot machines that you can play directly from your iOS device. The app does a lot right: it has excellent graphics, fun sound, multiple machines, including those you have to unlock, and it provides an authentic online slot experience. For this review, we used the Apple iPhone 4S.
Anyone who has played slot machines at any of the major online casinos will be impressed by the experience that this application delivers. These games look and "feel" like the real deal. Graphic and sound quality is high. The games have all of the advanced features, including bonus games, which players have come to expect. There's also a good deal of diversity. We expected a classic fruit machine or two, but the program has machines with many bet lines and interesting features.
More than a collection of slot machines, Slotomania is supposed to be a social experience, and this is where it begins to break down. There isn't any real money involved. Players simply build up pools of funny money. If a player goes bankrupt, the service will reseed their account once every day, and players can purchase coins using real money. In addition, the "rich" people within a circle of friends can gift money to the less fortunate. You can see where they were going with this, but the problem is that they never actually realize on the social aspect of the application.
At the end of the day, Slotomania is simply a series of play-for-free slot machines. There's not a lot you can do within the social framework, and once you've played all the slot machines a couple of times, it gets very boring very fast. Further exacerbating these problems is the seemingly low win rate. These slot machines are the real deal in terms of how infrequently they hit. Chances are you'll bust out quickly, and unless you have a rich friend in game, you'll have to pony up real cash or wait for the next day.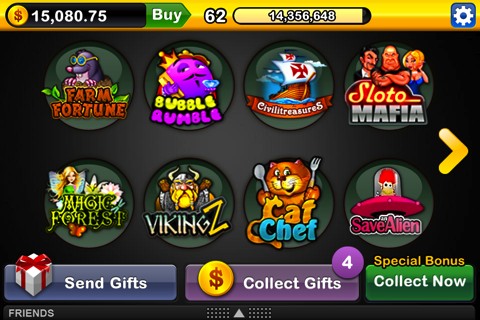 The good news is that the Slotomania app is completely free, and we'd be lying if we didn't admit to having fun during this review before we ran out of coins. If you want an iPhone app that you can use to kill some time every once in a while, Slotomania isn't a bad program to have on your iPhone or iPod touch. On the other hand, you will run out of coins quick, and since there is very little incentive for you to plop down $1.99 or more for in-app purchases, we can't really recommend Slotomania as a top-notch iOS casino game.