Beaver's Revenge developed by Twisted Games is a free physics based arcade game for iOS devices available on the iTunes App store. The reviewer played Beaver's Revenge on an iPhone 4.
Concept
The concept of this game is familiar. If you've played the smash hit application Angry Birds, you'll be right at home. You control a group of beavers that are enacting revenge on shady lumberjacks. You set up a trajectory and level of force through touch controls and attempt to knock down materials in order to destroy the lumberjacks.
Gameplay
The gameplay was smooth. The physics were very reminiscent to Angry Birds, so there wasn't any learning curve. There's something very satisfying about lining up the perfect shot and letting it rip. The gameplay was also very dynamic. When you interact with the world, it reacts. It feels like it's living, in a way.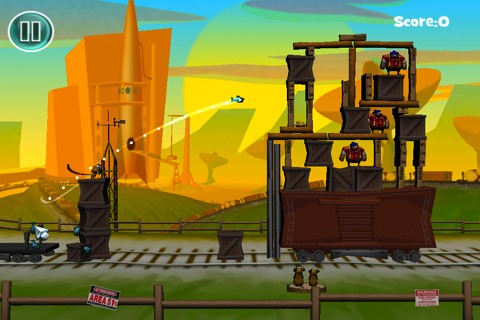 Controls
The iPhone app had great controls. I never found myself trying to do something only to have things go awry. The developers seemed to have taken an "if it ain't broke, don't fix it" mentality toward the controls. They didn't attempt to reinvent anything. They just honed it in and made it work well.
Audio
The audio was well done but distracting. While playing, you hear the forest, grunts from lumberjacks, elated beavers, and other related sound effects. They all fit into the world very well, but I found them somewhat over the top and annoying. Don't fret. If you aren't a fan of the audio, it's OK, because Beaver's Revenge is completely playable on mute.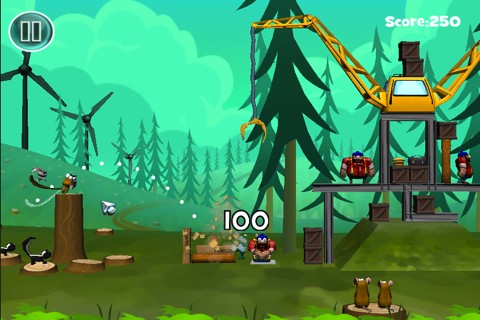 Graphics
The graphics here are certainly reminiscent of Angry Birds, but they have a neat 2D/3D style. Beaver's Revenge is played entirely in 2D, but the characters, items, and backgrounds have been rendered in a 3D style. This makes them a bit more pleasing to the eye and distinctive looking. There are other nice touches as well, such as animal spectators that react based on your performance.
Overall
Beaver's Revenge is free to started playing, so it's a great value. There are in-app purchases available, but you can have a good time without paying a cent. This makes it a great value, since if you download it and don't like it, you haven't lost any money. In closing, if you're a fan of Angry Birds and other games of that nature, Beaver's Revenge is a shoe-in. Give a whirl and let us know what you think.
Beaver's Revenge is compatible with iPhone 3GS/4/4S, iPod touch (3rd generation), iPod touch (4th generation) and iPad. It requires iOS 3.2 or later.