Tree World is a free cartoon inspired iPhone and iPad game from The Playforge where you try to grow your tree to as tall a height as you can. I have played Zombie Farm and Zombie Life (other apps by the same developer) and have really come to respect and believe in The Playforge. I downloaded this game on my iPod Touch and have not been disappointed by it yet. All of the animations and sounds of the tree and the critters are absolutely adorable. Cuteness makes up for a majority of my current addiction and desire for playing Tree World.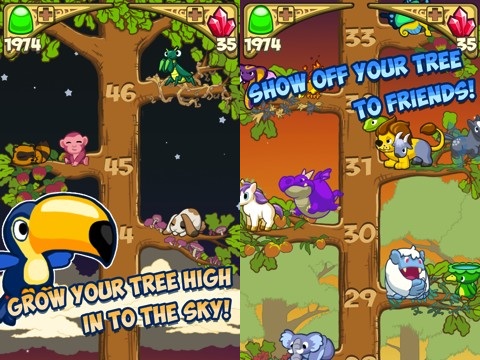 The concept of Tree World is pretty unique in comparison to the typical aquarium or forest scenario where you just wander aimlessly or wait for different creatures to show up. This iPhone app keeps the player engaged in ways that others really don't. As far as gameplay goes, it can be addicting, although I wish it was a little faster paced. I understand how the premise for this game makes it more slow paced. I guess it's just aimed at a younger audience who is less obsessive and as easily addicted as I am. In all seriousness, though, the controls are smooth and the progression of the story is engaging and interactive both online and offline.
I love the audio used in this iPhone application; it is feels soothing and adds a cute factor to the game that helps make me smile and makes Tree World an even better pastime.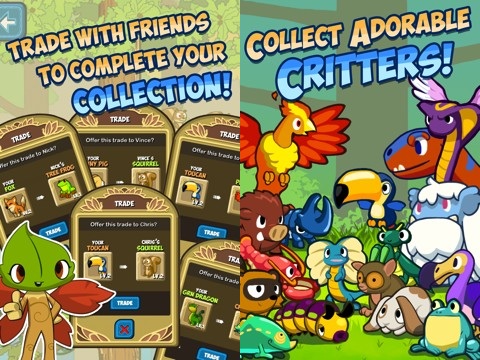 The Playforge has incorporated the ability to play with friends in the gameplay. Because of its price (Free), it's been easy to get my group of friends to also download the game so that we can compare trees and trade each other the critters that we find. I think that this type of interaction with others that have the application is absolutely necessary for maximizing your enjoyment and encouraging you to complete this "journey to the top" so to speak. It's easy to involve a friend to help each other out and maybe even come up with inside jokes along the way. As an aside, I can't wait to find that legendary Unicorn. I really badly want to find the unicorn first before any of my friends. It's childish really how competitive I have actually become.
My only complaint is that I don't like that so much of the game is really in the in-app purchase store, but that is expected and not unorthodox in freemium games nowadays. You can spend anywhere form $0.99 to $99.99 on upgrades including Vita Gems and Tree Food.
I hope that this review encourages The Playforge to continue to make amazing, inspiring creations.
This 3rd Party App is available at the Apple iTunes AppStore. Browse the full list of
all AppStore apps
filed under the AppStore category.