It was only a matter of time before Skylanders started running rampant around your apps. That time has finally come with the Skylanders Cloud Patrol game for the iPhone, iPad, and iPod touch, developed by Activision. Chances are that you've already heard of the new Skylanders characters from Activision; whether it's through the best-selling home console release Skylanders: Spyro's Adventure, the Skylanders action figures in toy stores or perhaps through a young family member who adores the series. Skylanders has taken the gaming world by storm.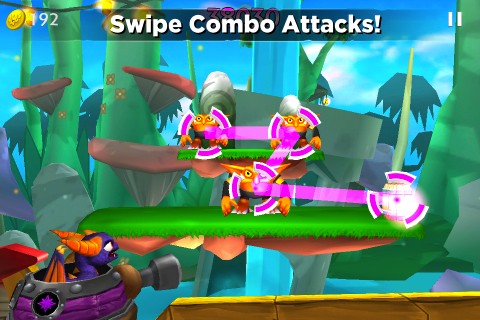 Skylanders Cloud Patrol is reminiscent of the old carnival game Whack-A-Mole; playing as one of 30 Skylanders, the goal is to shoot the trolls as they appear. If you shoot a bomb or a troll manages to shoot you first, the game is over. You have two options to kill the trolls using your Skylanders operated cannon turret: you can either tap on them to kill them one by one, or swipe your finger across multiple trolls to kill them instantly and earn bonus coins. In addition, completing challenges, such as killing a large amount of trolls, awards you with gems, the game's secondary currency.
Magic attacks, special abilities that can only be used a few times per match, also come into play and give a strategic element to this arcade shooter. Coins and gems purchase new Skylanders, new magic attacks or upgrade existing magic attacks; these features, combined with its arcade-like high score nature, give this app much replayability.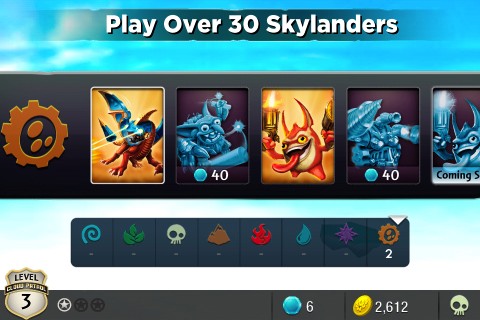 For those who collect Skylanders action figures, the code that comes with each figure is used in the iPhone app to unlock that particular character for play. While different characters only offer cosmetic differences in-game, it does serve as a great way to tie the iPhone app to the larger Skylanders world. The controls in Skylanders Cloud Patrol are easy to grasp and extremely responsive; players should have no problem learning the ropes of this application on their very first playthrough. As Skylanders is a children's property, this means that even young children will have no problem playing this app.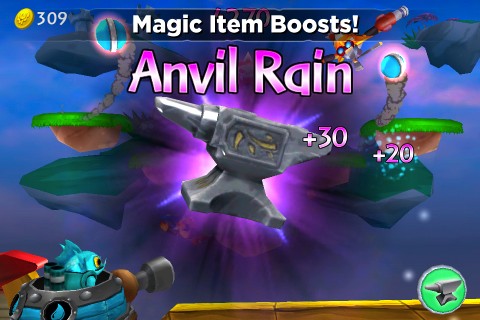 Skylanders Cloud Patrol's graphics are colorful, cartoony and match the Skylanders style well. The character models are in 3D and, unlike other games that feature unimpressive 3D models, Skylanders Cloud Patrol's models are crisp, clean and professional looking. The music is light-hearted and also captures the feel of the Skylanders brand well.
This review of Skylanders Cloud Patrol was performed on an iPhone 4 with version 5.1 of the iOS firmware and there were no bugs, glitches or freezes at any time during this review.
As an application primarily aimed at kids and to tie into the Skylanders brand, Skylanders Cloud Patrol succeeds; however, it also has momentum and potential for being a great experience outside its target audience, which puts it into a league of its own.
Top Questions users have about Skylanders Cloud Patrol
Unlocking more Skylanders Magic Items
Enter in the Web Code from your Web Code Card in your Skylander toy package. Tap on the Skylander or Magic Item you want in the Collection, then tap on the barcode icon, and enter in the 10 digit code from on your Web Code Card. You can also unlock more items by getting enough Gems.
Getting more Gems
1 – Complete goals and level up
2 – Find present boxes in Skylands
3 – Purchase them from the Gem Store ($1.99 – $49.99)
Getting more Coins
1 – Make major combo moves while hunting trolls
2 – Watch out for Element of the Day, if it matches your Skylander, you'll get bonus coins
3 – Unlock the Hidden Treasure Magic
4 – Purchase Coin Packs using your Gems
Leveling Up
– Level Up by earning the required number of Stars to boost your level to the next rank. You can also skip a goal but it will cost you gold.