Sky Gnomes is a new fun racing game with unique gameplay and a sophisticated graphic vibe. Developed by Foursaken Media for the iPhone and iPad, who's previous apps include Bug Heroes and Mad Chef. Their latest release is fully integrated with Game Center and syncs across your iPad and iPhone. Sky Gnomes loads up quickly and you'll want quick access, since you will soon be addicted!
The premise of the Sky Gnomes game is straightforward. Sky Gnomes build their wicked snow engines and start racing down through the snow and ice to a floating landing pad. As you earn points, you earn a better position in the standings. Each day there is a race across the Sky Gnomes world to determine the top three winners. Winners collect trophies and rewards to enhance your snow engine. The daily races are conducted based on your level, so newbies are grouped accordingly and so on. As you attain specific goals in racing and earn points, you can add parts to your snow engine to enhance power and performance, as well as your standing on the leader board.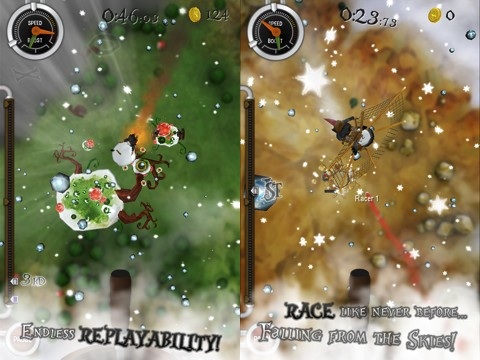 Racing in Sky Gnomes takes place in a floating 3D sky world. I would describe the graphical energy as Steampunk mixed with the Pixar movie Up. The unpredictable movement of wind and the shifting light created by clouds, snowflakes, and your floating snow engine bring subtle, yet dynamic complexity to the user experience. Items that must be tied down are tied down. In all other circumstances, the graphics and game play take place in a world shifting in any and all directions.
You build your snow engine on one screen and have the opportunity to scroll through upgrades. When you're ready to race, you head to a game screen to race against your Game Center friends or other Sky Gnomes universal download players. Interestingly, the game play takes place with a control stick manipulated by one hand at the bottom of the screen. It certainly takes a bit of time to adjust, as you're probably accustomed to following game play across the screen. It's an interesting juxtaposition. Everything affecting the game play is moving on the screen except the control you must use to win the race and advance.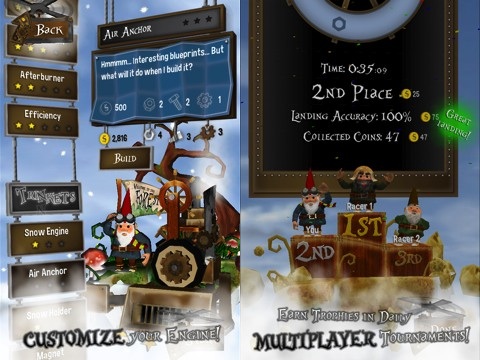 In Sky Gnomes you're navigating through wind, and the snowflakes you need to grab to earn points move with lifelike unpredictability. Just as you get close to a snowflake, it shifts and you have to adjust quickly. You are also floating down, so the perspective is a whirling tunnel. When you miss a snowflake, you may already be below the snowflake. The Sky Gnomes universal download awards accuracy by successfully navigating through the middle of a ring, dodging ice, intersecting several snowflakes in a row, and landing on the floating landing pad.
According to the news regarding updates in the Sky Gnomes iPad and iPhone app, you can look forward to new characters and a one versus one battle mode. The Sky Gnomes universal download is surprisingly challenging and filled with cool, unexpected gameplay.