New York 3D Rollercoaster Rush by Digital Chocolate Inc integrates roller coasters and racing in this fast-paced free iPhone game. The premise of New Your 3D Rollercoaster Rush involves speeding your cart along roller coaster tracks in New York to try to get your passengers happy. As your excitement meter increases, you gain extra stars. Each level is rated according to the amount of stars you receive. There are forty levels total. You can get up to four stars on each level. The first three stars come from the initial roller coaster ride. The fourth star comes from an optional race level where you race against your ghost from the original ride. When you beat the ghost cart, you get an additional star for that level.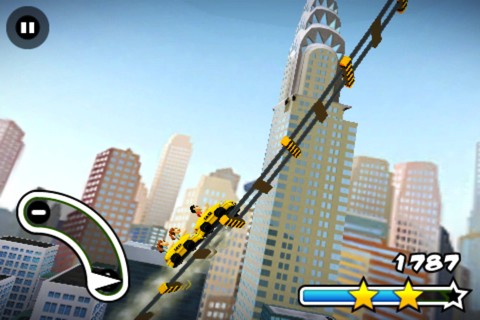 Playing Rollercoaster Rush works by tilting your iPhone or iPod touch to the left or the right. Tilting the device to the left puts the brakes on and slows the cart down. Tilting the device to the right accelerates your speed. When you take a jump at high speeds, you risk missing the track, falling off and starting the game over again. You need to find a balance between acceleration and deceleration to stay on the track but keep your excitement meter at maximum levels. The graphics of Rollercoaster Rush are on average. The characters are cartoons with a New York landscape background.
You have two options for play: career and multiplayer. Career lets you race your cart to get the highest scores. Multiplayer lets you use Bluetooth to race against your friends. Bluetooth must be enabled to operate in multiplayer mode.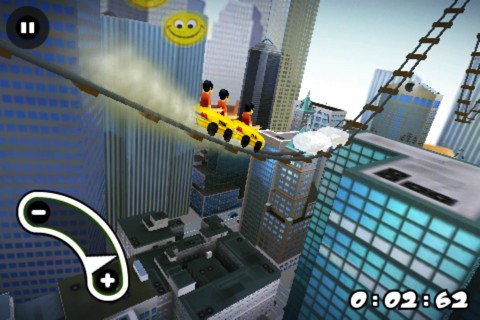 In-app purchases let you change the background of your roller coaster race. Your options include purchasing the Central Park Pack ($1.99) and a cheats pack ($0.99). The "Add-ons" button on the main screen brings you to the shop to purchase these two options. The Options screen lets you turn off the background music, reset the levels and change the language. The Options screen also houses the instructions so you know how to play the application.
Rollercoaster Rush provides an entertaining ride for free. Once you complete the game, you still get use from it by trying to beat your star ratings on other levels. They also update the iPhone app by adding new levels for you to beat. I would recommend this application especially since it is free to download from the iTunes App Store. Rollercoaster Rush is ad-supported. The most obvious ads appear with a splash screen when you open the iPhone app and on the main menu screen.
This review of New York 3D Rollercoaster Rush was conducted using an iPhone 4.
This 3rd Party App is available at the Apple iTunes AppStore. Browse the full list of
all AppStore apps
filed under the AppStore category.