Saturday Morning RPG for iPhone and iPad is an interesting take on role-playing games, not just as far as smartphones are concerned, but for any gaming platform. The tongue-in-cheek and nostalgic humor will keep you pining for your ever-fading youth, while the intricate battle system will leave you impressed with the developers, a fantastic team effort by Mighty Rabbit and Joystick Labs. I downloaded this app for my iPhone 3GS running iOS 5 for this review, and, while I had to kill off most running applications to get it to run, it was well worth the memory usage. On my iPhone 4S and iPad 2, Saturday Morning RPG runs like a dream. You can also play it on the iPod Touch.
This review examines this apps' many references to the glorious days of my childhood, the late 1980s, with music that harkens to the days of dimly lit arcades, an appealing combination of 3D backdrops and brightly colored 8-bit 2D characters. Dialogue is expressed using comic-inspired speech bubbles.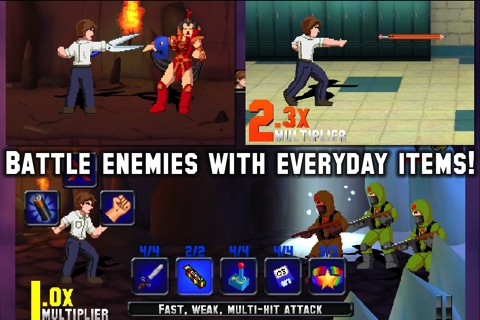 With this boisterously entertaining application, we follow the tale of Marty, out to rescue his crush from the clutches of the evil Commander Hood. Luckily, the "Wizard", Power Glove and all, saves the day with a clear and concise tutorial, guiding you through the "spells" and bonuses from your TrapperKeeper. Scratch-n-sniff stickers provide pre-battle bonuses, trying to scratch them all in an allotted amount of time is a fun challenge.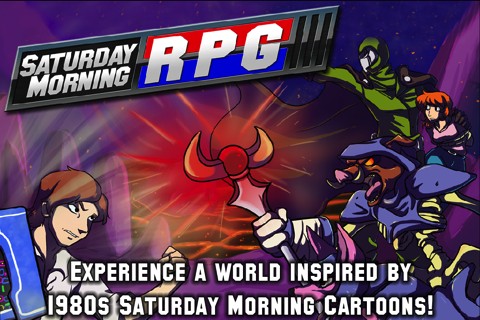 Attack, defense, and support moves are carried out with touch controls, swiping and tapping your way through the battles is a refreshing alternative to the usual "button mashing" of turn-based battles in classic RPGs. Moves can be carried out with special items from your TrappeKeeper, most laden with humorous references to the bygone era of the 80s. The more efficiently you handle a battle determines your bonus experience; you can even use the application to Tweet the outcome of your battles.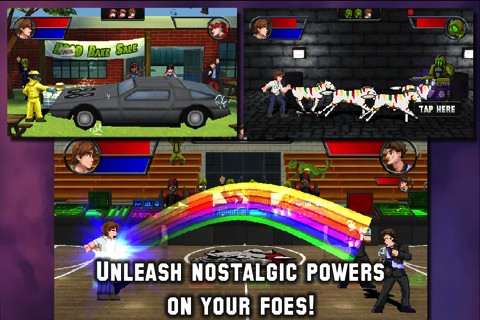 Exploration on the map is viewed in isometric perspective. Dragging your finger around the screen guides Marty to his next destination, and on an iPhone screen this can make the experience somewhat obnoxious. There are a lack of random battles, too: static enemies appear on the map, meaning you do not control the overall experience you earn. In this manner the intricacy of the battle system fails because, in the end, Marty will probably not end up much stronger, even if you planned your battles very well.
The real reward, however, is the humor and nostalgia brought to its target audience, the post-college cubicle-dwelling twenty and thirtysomething crowd. The developers spent a lot of time lovingly squeezing the 80s into "Saturday Morning RPG," and it was a pleasure to review.
The story arc is being released in episodes. Each episode is a separate iPhone app. The first episode is free, and the episode 2 is well worth the couple of bucks via in-app purchase. More episodes are to come this summer, so download this game and you, too, can experience the knowing chuckles and wistful memories of your childhood.