If you are a Super Mario fan, you will love the Paper Monsters app for iPhone, iPod Touch, and iPad. The developers at Crescent Moon Games have filled the Paper Monsters game app with great wit, charm, graphics, soundtrack, and functionality. You and your family will have a blast competing against one another on the Leader Board at Game Center, as you navigate obstacles, earn points, and explore this exciting paper playscape.
The story of the Paper Monsters iPhone and iPad game is simple. The paper world has been threatened by monsters, and you need to help save it. The graphics of the paper world are superbly created with inspiration from a paper-filled world. Not too long ago, people made Halloween costumes out of cardboard boxes and brown paper bags.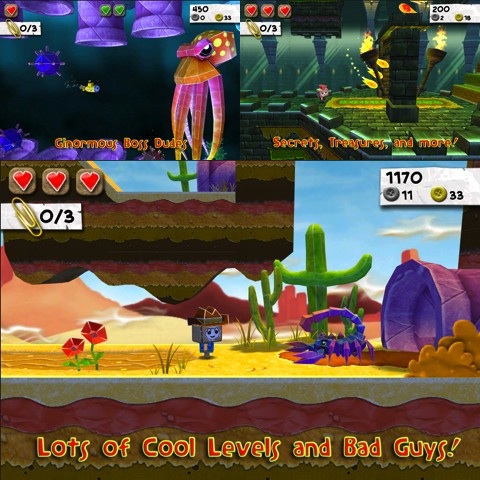 Every day with Paper Monsters speaks to the vibe of making dioramas out of cardboard boxes and torn pieces of construction paper. The bridges in the Paper Monsters iPhone, iPod Touch, and iPad game world are constructed from popsicle sticks and string. Where appropriate, elements are scribbled in crayon. The monsters are wadded pieces of paper, so no blood, guts, or particularly scary elements inhabit the paper world. The Paper Monsters app has a vibrant, smart visual presence that makes you smile, laugh, and think.
An additional enhancement to the Paper Monsters iPhone, iPod Touch, and iPad game is the fantastic soundtrack. It is pleasant, and it shifts nicely to reflect game play. The quality of the Paper Monsters app soundtrack and its successful integration with the movement of the game bring an added dimension to your experience.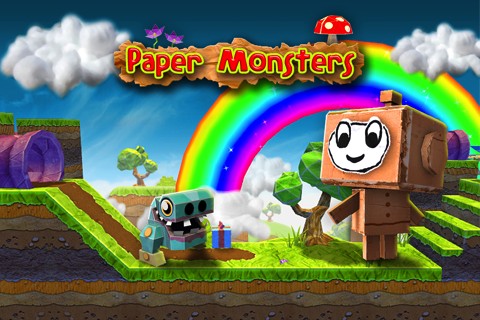 The Paper Monsters iPhone and iPad app has sixteen levels in four different environments, as well as bonus and seasonal environments unlocked by success in the main game. The game play can be controlled by two different modes–joystick or gesture control. The gesture control is extremely sensitive, but sometimes it's not as intuitive as you may like. You create movement by running your finger behind your Paper Monster. It takes a few tries to get the feel of how you need to move and the timing of your touches on the screen to make your Paper Monster jump.
The Paper Monsters iPhone, iPod Touch, and iPad app contains tunnels, multiple levels, pyramids in the air, and many other features reminiscent of typical 2D games like Super Mario. You jump on top of monsters, earn points grabbing buttons, and embark on challenges and missions to find the coveted "golden paperclips." As you earn points and complete levels, you can upgrade your Paper Monster's costume. My personal favorite was the box shirt with the oversize gold and diamond necklace reading "BOX."
The Paper Monsters app is an incredible experience, and currently free to download at the iTunes App Store. The game originally sells for $2.99 so grab it before the price goes back up.