Are you looking for a cute physics puzzler app to play with your family? Shark Dash for iPhone and iPad delights with its intuitive game design and engaging graphics. Prices at a reasonable $0.99 download from the iTunes App Store, you and your kids can bond with an iPad and a sweet shark.
The developers at Gameloft filled the Shark Dash iPhone and iPad app with smartly detailed, yet bright and exciting graphic details. Finding Nemo will be the first thing to pop in your head, when you see the human world and underwater worlds collide in Shark Dash. The story behind Shark Dash is told in pictures, just like you would see in a book. Sharkee and his girlfriend live in a beautiful, fun, spirited world, until ducks abduct Sharkee's girlfriend. You must help Sharkee dash from level to level and world to world to take out the ducks and retrieve his girlfriend. One of the more exciting graphic details brings dimension to the scoreboard following each level. It seems like you are looking up at the scoreboard through the water. There are beams that look like the sun or light is filtering through the water.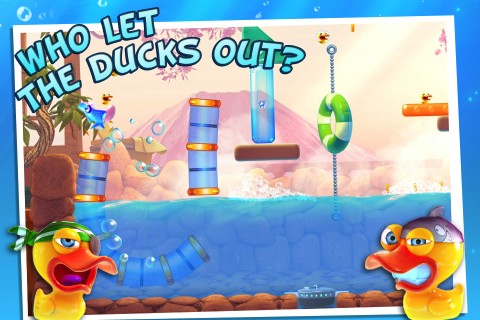 The Shark Dash iPhone and iPad app brings a smart functionality to the physics puzzler app genre. When you use your finger to pull on Sharkee's tail, you can see the path he will take. You can adjust the fling of the shark to increase accuracy and find quicker success. That's an excellent way to make Shark Dash approachable for young ones. You earn points by hitting all of the ducks, grabbing coins, and taking the fewest shots. As Sharkee encounters obstacles, the fun soundtrack reflects the action of the puzzler app making the Shark Dash iPhone and iPad app more enticing for kids.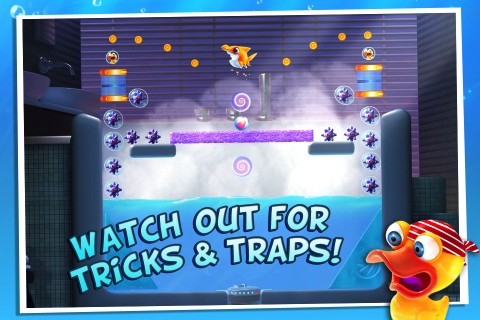 You earn points extremely quickly with the Shark Dash iPhone and iPad game. You earn additional points for achievements like launching blocks outside the bathtub and popping inflatables. You earn extra points through quality splashing. You can redeem points in the Shark Dash shop to get fun skins for Sharkee. You can also purchase points through the Shark Dash puzzler app to buy your way into the next level or purchase upgrades. Shark Dash iPhone and iPad app connects with Gameloft live, so those who play other Gameloft games have access to that integration.
The Shark Dash iPhone and iPad physics puzzler app is an excellent product for families. The graphics have spunk and wit, and the functionality is perfect for young ones to find success and have fun.
This 3rd Party App is available at the Apple iTunes AppStore. Browse the full list of
all AppStore apps
filed under the AppStore category.