Carpet Ball is an upcoming game release by Peak Systems that is a fun way to bond with your familly over iPhones, iPod Touches, and iPads. The goal of the game is to be the first person to knock the other player's balls off the table. We previewed the Carpet Ball app and think you should check it out.
The Carpet Ball iPhone, iPod Touch, and iPad app combines billiards and skee ball with real life multiplayer gameplay so you can have fun playing together. This is not a game where you battle an unknown enemy. You put your devices on the table, start or join a game, and you shoot away. The interface and navigation is simple and easy. You host or join a game. The Carpet Ball app secures a connection, and you start a game.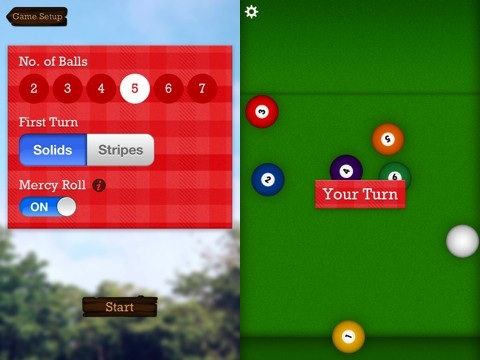 The host chooses how many balls will be on the table, stripes or solids, and activates a mercy roll with simple touches on the screen. The balls specified appear on your screen and your opponent's screen. You arrange them, then the game starts. You fling a cue ball with finger gestures in the direction of the balls on your opponent's screen. In a split second, your ball appears on your opponent's screen–bouncing off the edge of the iPhone and iPad screen and knocking balls into many directions. Once you have knocked the balls to the back of the screen, then you win. If you allow a mercy roll, then your opponent has one last ditch effort. The gesture control is extremely responsive. If you move the ball slowly, the ball rolls slowly. If you fling your ball with speed and force, then your ball's action corresponds with the movement.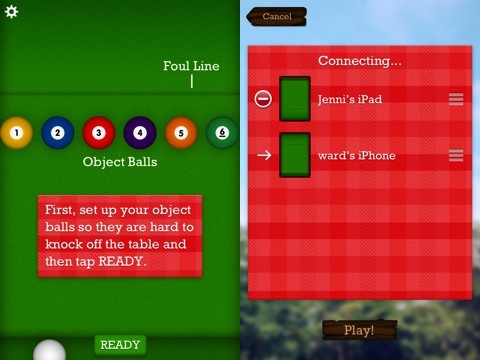 Have you seen the family photo floating around Facebook where everyone is looking down at an iPhone or iPad? Does your family bear a striking resemblance to that family? Does your family need a break from DrawSomething? The Carpet Ball iPhone, iPod Touch, and iPad app is visually interesting, well-executed, and a neat perspective for gaming with friends and family in person. Watch for Carpet Ball on April 27th and download it before your next family gathering. Or, buy it for Mother's Day and challenge your mom to a friendly Carpet Ball app competition.