Find Animals is a free puzzle app for the iPhone and iPad by TactSky that features fuzzy animals in a timed matching game. Along the bottom of the screen is a conveyor belt with animals on it. The purpose of the application is to match the animal at the end of the conveyor belt with the grid of animals on the main screen. As you select the correct animal, it disappears, a new one appears, the next animal on the conveyor belt moves to the right and you select the next animal. Points accrue depending on how fast you play, bonus for streaks and completing the level. Failure to find all the animals on the conveyor belt within the time frame means you have to start over.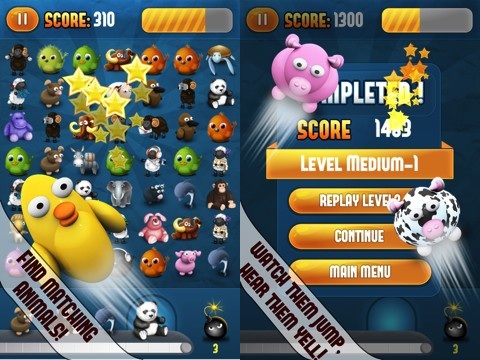 Interface
Find Animals comes with 27 levels: nine easy levels, nine medium levels and nine hard levels. Find Animals progresses in difficulty the more levels you complete. The animals in the grid begin to rotate making it harder to locate the correct animal. New animals are introduced that are the same animal type but in different positions or holding different objects.
On the main menu, there is a button for "Bonus Shoots." As you play the main puzzles, you unlock weapons in the bonus shoots mini-game. In the bonus shoots, you shoot the animal picture on the "Wanted" poster. You play until you run out of time. There are various weapons including a rock, knife, laser gun and bomb.
Graphics, Audio and Controls
The graphics display well on a retina display. The animals are designed with just enough subtle differences to make the application difficult. Find Animals uses background music while you play. It also uses sound effects when you hit the correct animal. Controls for the main Find Animals puzzles involve simple tapping of your finger on the correct animal. The bonus shoots require you pull back on the sling shot to shoot the rock or tap the laser to shoot the animal.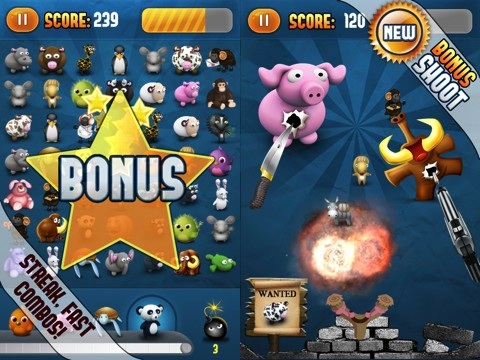 Find Animals by TactSky brings puzzle gaming to a new level. Unlike other puzzles games on the market, Find Animals is deceptively difficult. Upon playing the first level, my initial reaction was this was a matching game for children. I kept going on the easy levels and the game increased in difficulty. Playing the difficult levels, I was required to redo levels to complete the app. Find Animals is challenging on the difficult level.
Overall
Find Animals is free to download from the iTunes App Store for your iPhone or iPod touch. It is ad-supported and shows full-page ads between games you must click the "X" to exit. Clicking a few of the buttons such as the "Rankings" button resulted in an error message that it could not complete the requested task.
The Find Animals iPhone app review was performed using an iPhone 4 running iOS 5.0.1 firmware.