RPG Symphony of Eternity is great for gamers who like old school RPG games. It definitely has the feel of games like Final Fantasy with the grinding, equipping weapons and battle screens. This app runs devices that support iOS apps including the iPod Touch and iPhone.
RPG – Symphony of Eternity by Kotobuki Solution Co., Ltd. begins with a coup d'état in the land of Eashland. The opening sequence shows the captain of the guard helping the princess (Lish) escape from the castle. The next sequence begins with the main character, Kreist, and his golem sidekick, Dauturu, venturing through the forest to the nearest town of Leinoy. Along the way, they come across the princess and save her from monsters. When they reach the town of Leinoy, they discuss with Princess Lish their ultimate goal of finding a weapon that grants wishes. Lish requests to join them on their quest in hopes that the weapon may helper her get Eashland back.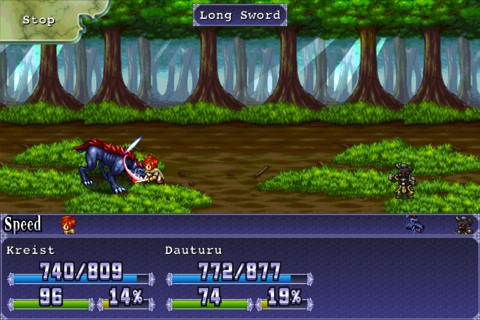 The Symphony of Eternity application brings you back to old school RPG role-playing. Similar to RPG games of the '90s, Symphony follows in the footsteps of Final Fantasy, Dragon Warrior and other classic games. You get options when it comes to how to control your characters. You direct your characters through the lands by touching the screen where you want them to go. Your other options include using a controller to move them. You add armor, weapons and skills by tapping on the Menu button. Tapping the Map button brings you to a map overlay of the current screen. Background music plays in the background which you have the option of turning off. Your iOS device vibrates when a critical hit occurs in battle.
During battle, you get the option to auto attack which is a great feature for fighting monsters below your current levels. When your status bar at the bottom reaches 100%, you get the option to break in on the current attack scheme with an extra hit. The "Speed" toolbar at the bottom of the battle screen shows the current order of attack as it happens.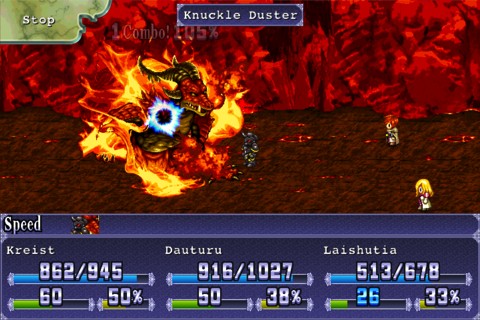 The biggest benefit to playing the RPG Symphony of Eternity iPhone app comes with the ability to customize your character attributes. As they gain levels, you get to designate where you want their abilities to increase. Every level gives you points. You spend these points on a series of attributes such as physical strength, magical strength, physical defense, speed and evasion.
Your characters get skills depending on the tablet they have equipped. New tablets are available for purchase through Item stores in the towns you play in. Each tablet receives points as you fight battles. Your tablets level up just like your character to earn new skills and magic.
This review of the RPG Symphony of Eternity app was performed using an iPhone 4 running iOS 5.0.1 firmware.