Shoot the Zombirds! is a new game for iPhone, iPod Touch, and iPad and the newest release by Infinite Dreams, the same team behind Jelly Defense. The Shoot the Zombirds! iOS app incorporates intuitive, precise gesture controls, great graphics, and a fantastic soundtrack to create a fun, fresh, addictive gaming experience.
The Infinite Dreams development team address details that are frequently overlooked yet vitally important to an exciting gaming atmosphere. Graphics and illustrations in Shoot the Zombirds are somewhat reminiscent of Tim Burton's Coraline. The dark, horror graphic details are extremely unscary. Like Coraline, the pumpkids have heads with an exaggerated proportion to their bodies. The zombirds and their evil cohorts have a cuddly, cute quality. But, the distinction between the heroes and villains is extremely clear. The screen is framed by dead tree branches and dilapidated Victorian homes.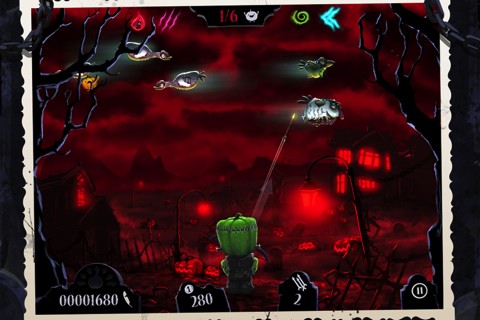 The sky changes colors, and clouds move creating texture and fluidity. The visual presence of the Shoot the Zombirds! iPhone, iPod Touch, and iPad game app is punctuated by a perfectly crafted soundtrack. The production is exquisite and complements the less than scary, good versus evil premise of the Shoot the Zombirds! iOS game app.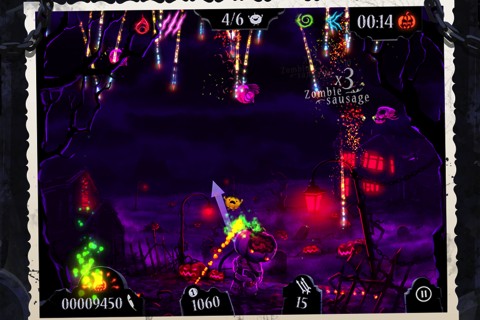 To successfully play the Shoot the Zombirds! iOS game app, you will need a delicate hand to manipulate the agile, responsive gesture controls. You are a pumpkid who is trying to save pumpkids abducted by zombirds and their evil cohorts by shooting them as they fly through the air. You touch the screen on your pumpkid and slide your finger to activate your bow and arrow.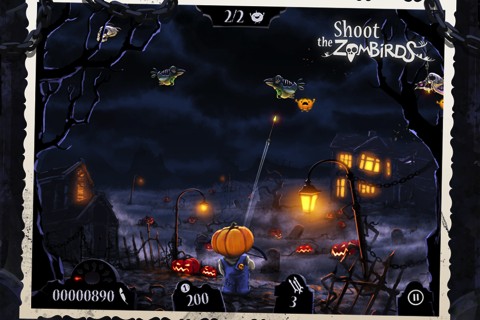 A short bit of the trajectory is available on the screen to improve your accuracy. You take your finger off the screen to release the arrow, and hopefully, you strike the zombirds flying across the screen. You earn points and extra arrows by successfully knocking zombirds out of the sky. You want to hit the zombirds carrying abducted pumpkids to earn points. You also find success and earn points by hitting money skulls.
Your results are available at the end of each round in a scoreboard. You can share your results on Facebook and Twitter, as well as connect with other Shoot the Zombirds! iOS gamers at Game Center. Additional coins to purchase power-ups like freezing the screen to shoot all of the zombirds and new gear for your pumpkid can be earned or purchased in-app.
Shoot the Zombirds is a smart, fun, and addictive action arcade game for iOS. If you love physics controlled iOS shooters, then you'll want to check it out.