Are you sucked into the 2012 Olympic qualifiers and can't get enough? Then, don't get suckered into shelling out $2.99 for the London Official Olympic Games iPhone, iPod Touch, and iPad app due to your Olympic fever. The graphics and soundtrack certainly bring the Olympic quality, but the clunky, confusing gesture controls will leave you disappointed.
The London Official Olympic Games iOS app's graphics and character creation are reminiscent of Wii Sports. The graphics are bright, airy, and incorporate the pink color of the 2012 Olympic banner without being too feminine. The pool, archery range, and stadium are easily identifiable and attractive in their animated perspectives. It is extremely visually engaging on the iPad, as the increased size of the screen gives you a chance to check out the fine details. Your character and the other characters within the London Official Olympic Games iPhone app are fun and filled with energy and movement. You build a character just like Wii Sports, but with fewer selections, for customization. You choose gender, face, hair, country, and stat. You can move back and forth to adjust each item by touching the appropriately labeled tab. Once you are satisfied with your character, you name him or her.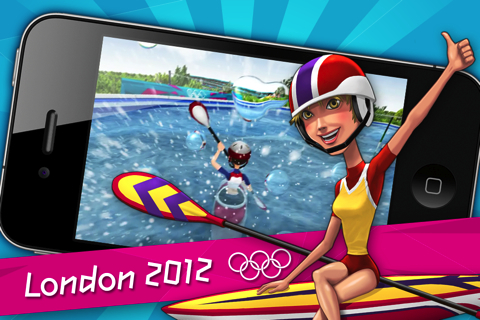 The London Official Olympic Games's iPad app game screen is packed with tools and functionality and organized nicely. You navigate between home, shop, locker, trophy, ranking, options, and help with touches on the menu bar at the bottom of the screen. Your character stands on a podium waiting for you to select to train, enter Olympics, or complete a challenge. When you touch the screen and make a selection, a matrix of choices pops-up on the screen. Some items are immediately available, and others must be unlocked.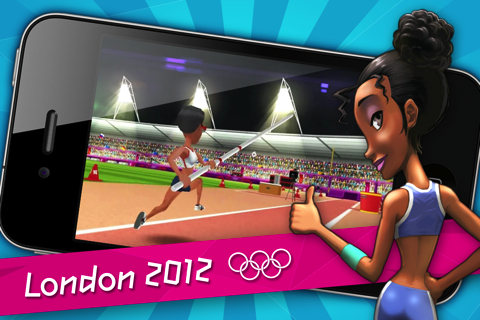 Unfortunately, once you select a specific training or game, like 100 meter Freestyle, Double Trap, or 100 meter Sprint, the London Official Olympic Games's iPad app loses its appeal. A pop-up on the screen gives you directions for your gesture controls. The gesture controls don't function well, and they are not-intuitive. You swipe on the screen with your thumbs in odd directions and tilt the iPad. If it incorporated physics controlled gestures, flings, and rapid taps to increase speed, the gaming interface would dramatically improve. You can share your results to Twitter and Facebook as well.
The London Official Olympic Games iPad app's inspiring, heart-pounding soundtrack and cool graphics are just not epic enough.