Somewhere along the line gaming started to take itself too seriously. I couldn't tell you when it happened, but somewhere, somehow, gaming went from a causal moment of escapist joy, to a serious pursuit that required hours of study, practice and devotion. I know people who put more effort into Halo than their real jobs it's perfectly possible to lose hours "training" to get good in Street Fighter or whatever the kids are playing these days. But what about fun? Well the proliferation of smartphones has had the unexpected consequence (alongside of course the Nintendo Wii) of popularising casual gaming.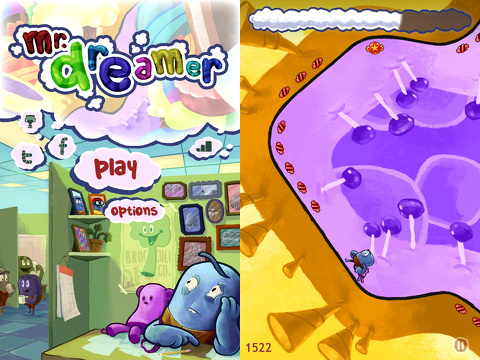 "Casual gaming" is a term that hardcore gamers might well sneer at – but why can't gaming be a light-hearted fun pursuit? Blockbuster titles on the iPhones such as Canabalt, Doodle Jump and of course Angry Birds have brightened up bus stops, doctor's offices and toilet breaks across the world.
Enter Mr. Dreamer, the latest in a growing-line of casual gaming titles for the iPhone. Rather than attempting to mould traditional gaming controls to suit the smartphone, casual games – or the most successful ones at least – naturally adapt to the world of the smartphone use, with innovative control systems and a focus on simple, immersive gameplay rather than a complicated system of levers and pulleys. Mr Dreamer is controlled by a single tap and can be operated with just your thumb whilst pretending to listen to your boss, parent or spouse.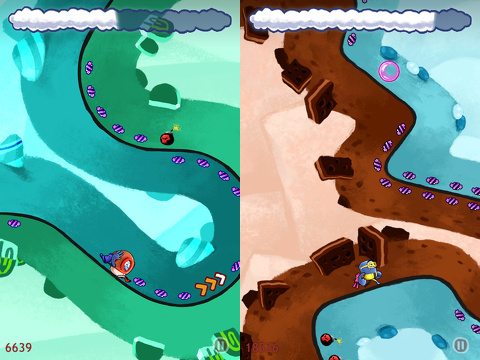 Mr Dreamer is a runner style game, like Canabalt … with a twist. No, he's not dead the whole time, or a man, or secretly Luke's father. Mr Dreamer works via a flip mechanism, where you have to prevent the character from spending too long upside down and he traverses a never-ending loop-de-loop. Over the course of the game you will navigate many artistic candy worlds with twists and loops, speed boosts, power ups and enemies. The goal is simply to run as high as you can without getting hurt or spotted by the Broccoli Boss.
Mr. Dreamer is a runner-style game intended for casual gamers of all ages and will be hitting the App Store July 31st at $0.99. Minimum supported devices: iPhone 4, iPod Touch 4, iPad 2.