Are you looking for a strategy-oriented, tower defense game with a dash of Tiny Tower's capitalism? The Kingdom Rush iPad game lets you build towers for defense, as well as cultivate and improve your plot of land, while you fight evil invaders.
The renaissance fair-inspired graphic world includes thoughtful touches to immerse you in the the Kingdom Rush iPad game. The start of each level or endeavor is marked by bold castle doors that slide on to your screen with a complementary sound of a door slamming. Your kingdom is an old topographic map with mountains, deserts, waterways, and treacherous areas identified with witty names like Rotten Forest, Rift of Cinders, and Icewind Pass. As you begin to build a Kingdom Rush iPad game kingdom, you are greeted by a pop-up with the story detailing the trials and tribulations of the area you must build and defend. Pop-ups also explain the different types of invaders and the towers most suitable for successfully defending the area. The Kingdom Rush iPad app store does let you redeem your rewards to improve the value of your towers and better train your army and community.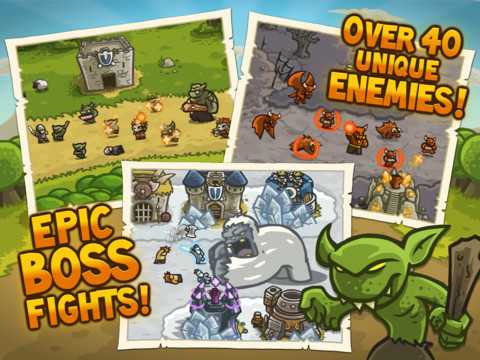 The Kingdom Rush iPad app game play is extremely straightforward and depends on successful strategic thinking, but it does become repetitive quickly. For each area, there are locations for you to build towers along the road used by the marauders. You tap on the icon, and four choices appear–arsenal for reinforcements, tower with arrows, tower with bombs, and a tower with magic spells to crack armor. You double tap the tower selected, and it is constructed.
As the waves of invaders start, you earn points quickly. This gives you the chance to build more towers to brace for the next wave of invaders. When you don't have enough points to build a new tower or cultivate a successful community, you're stuck watching the game play. It gets a little boring when the activity and opportunity to engage is diminished. You can watch the health level of each of your fighters and the opponents, but the time in between power-ups, achievements, and tower construction is a let down.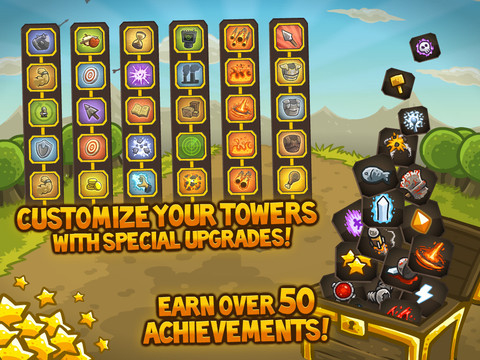 There would be a lot more to share with Twitter and Facebook, if the Kingdom Rush iPad game incorporated more gestures, responsibilities, and interface for the user. There is great potential for a compelling, addictive game, but, right now, it's lacking.