The Toybox iPhone and iPod Touch app challenges you to multi-task with its cool fusion of shooter and puzzler game play. Imagine Space Invaders hooking up with Tetris in an exciting way each week, as a new level and competition among Toybox iPhone app players bring constant variety.
Barrel of Donkeys, the developers behind the Toybox shooter meets puzzler iPhone app, address important details to enhance the experience. The graphics combine classic metal toys like rockets, robots, airplanes, and Tetris-style cubes with vintage effects popular in many iOS photography apps. The vibe created by the filtered and muted, yet extremely attractive graphic color palette adds sophistication. The simple, yet punchy soundtrack perfectly complements the game play.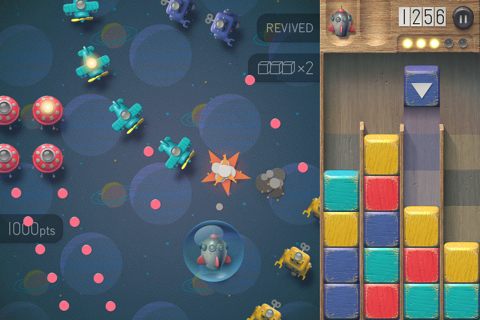 The home screen and tutorial interface successfully integrate instructions to describe functionality without the use of blue box pop-ups that would certainly ruin the mood. The home screen also gives you a quick glimpse of the weeks competition, as well as easy access to the game, instructions, settings, and search for friends through Facebook and Game Center with simple touches on the screen.
The interesting angle of the Toybox iPhone app game play is how you earn power-ups and extra lives. You play the shooter game with your left thumb. The gesture controls are agile, responsive, and accurate, as you move your rocket around the left side of the screen. You dodge the fire of incoming aircraft, and your constantly-firing rocket earns points by shooting the aircraft and the fire streaming down at you.
You earn power-ups and extra lives by successfully placing blocks with your right thumb. As you connect three similarly colored blocks, you earn your rewards. Although the game play is separate–shooter on left and puzzler on right–your success impacts the action on the other side of the screen. The more cubes you connect result in better firepower and more lives. The pace of the game quickly increases resulting in a more challenging and fun experience.
The Toybox iPhone and iPod Touch game is a blast and a refreshing perspective on shooter and puzzler games. The $.99 download gets you a new challenge every week without in-app purchases or unlocking one level after the next. Give it a try, and hopefully, you'll find your initials at the top of the weekly competition.