If you travel with your iPhone, iPad, or GPS device, then the Fog of World app monitors and logs your whereabouts with a beautiful, appealing map. The Fog of World application gradually reveals and lifts the fog off the world map, as you travel. The perspective is similar to fog of war in strategy games.
The Fog of World app opens with a clouded, yet striking home screen. With a simple authorization to activate location services, the map view zooms on your location. The fog is cleared, and for a small radius surrounding you, your footprint on the earth is exposed. Visually, it is fresh, exciting, and completely unexpected. It's one thing to look up an image in Google maps, but it's stunning to see where you are and have been with this clearing fog.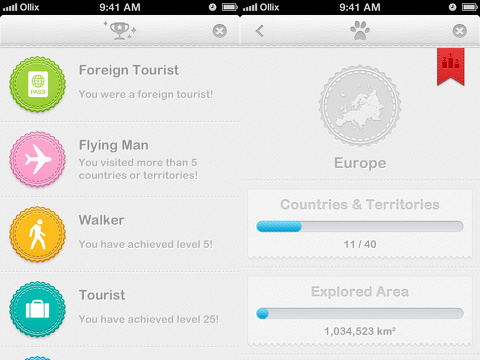 As you travel, your Fog of World app runs in the background to continually monitor and pinpoint the areas where the fog should clear. You can also import GPX files from Dropbox and iTunes. The ability to sync with iCloud is currently in the development stages. In order to access the functionality and continue to log your travels, your battery and data package will definitely suffer.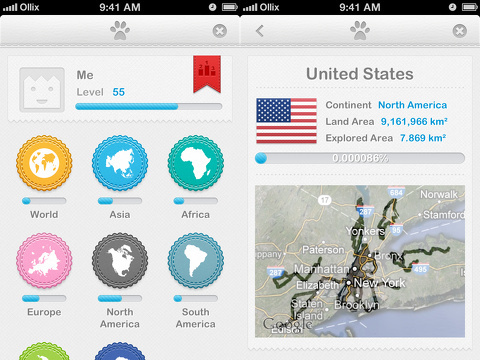 The Fog of World iPhone and iPad app incorporates some additional neat features. You earn levels as you travel to different countries and continents. Your progress and amount of ground covered are neatly monitored in square kilometers and percentages at the top of the screen. With simple swipes, you can move back and forth between them. The prize and achievements icons lead to attractive, concise logs of your travels. The graphics are bright and modern, and you can have a brief synopsis of where you have traveled, how much territory has been covered, and mode of transit.
The $4.99 price tag for the Fog of World iPhone and iPad universal download is expensive, but it is a really cool way to see how you and the world intersect. The simple interface and the impact of a lifting fog as you expose yourself to the world and its experiences are delightful.