Wanna make pigs fly? You can with Rovio's Bad Piggies HD for iPad. It is a fun, addictive puzzler and arcade iPad game with bright graphics, wit, and humor. Rovio has built challenging levels and sandbox levels to reward top-notch Bad Piggies HD addicts.
The Bad Piggies are in desperate need of their egg fix. So, it's your job to help these gluttonous creatures overcome obstacles, win points, and advance. The graphics are simple, yet bold and enticing. The island's jungles are not dense with a heavy graphic designer's hand to create dimension. Instead, a dark color juxtaposed with a light one provides just the perfect amount of visual interest. The green pigs are cute in their helplessness and clueless-ness. The sea is constantly moving on the rocky shore, and again, the strong use of color provides a modern, sophisticated gamescape.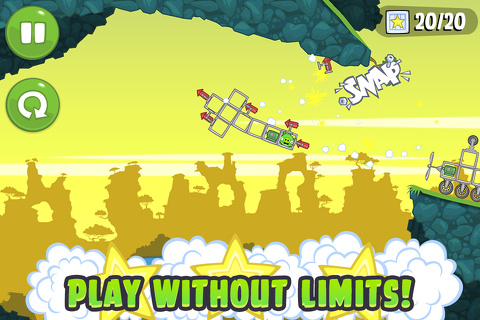 To be really successful with the Bad Piggies HD iPad game, you must pay attention to the overview of each level. There are currently 72 levels and 18 levels to unlock, as well as sandbox and bonus levels. Prior to each level, the screen shows the obstacle with its risks and rewards. You construct a cart from a given number of crates, wheels, and additional supplements for speed and precision like fans and rockets. You also place your pig in a specific location in the cart, so hopefully it will complete the course successfully and you'll earn points. If you want to hire out the construction of your cart, you can make in-app purchases ranging from $1.99 to $9.99. As you advance, you'll have more choices and a larger area to construct your cart. When you start your cart and the Bad Piggy takes off, it's fun to watch it bounce, fly, blast, and roll. As you progress, naturally, more tools and options to trick out your cart and help you get the Bad Piggy to his eggs faster appear.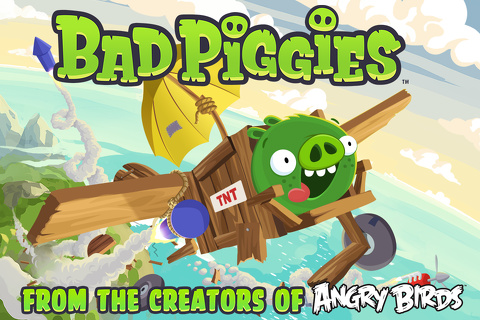 The Bad Piggies HD iPad game is fun and accessible to a variety of ages and interests, but it also incorporates special features and challenge. If you are lucky or persistent enough to be perfect or nearly so, you are rewarded with challenging levels. The $2.99 iPad download is a reasonable rate, as the gameplay lends itself to a larger screen. If you are looking for a new addiction, then the Bad Piggies HD iPad game is worth a look. It's fun, and it will make you laugh.