The Devil's Attorney iPhone, iPod Touch, and iPad game requires you to outwit and destroy the prosecutor's case against your client with strategic strikes on evidence, witnesses, and courtroom antics. As you win and earn cash, you get to spend your earnings tricking out your apartment and enhancing your glamorous image. The game play for the Devil's Attorney universal download is unusual. It relies on tower defense and strategy gameplay features, as well as online gaming functionalities like Minecraft where you build your house with rewards from winning.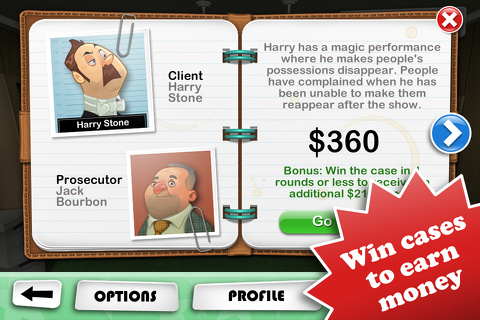 The Devil's Attorney iOS game is straight out of the 1980s with its graphics, music, and petty crimes. The opening title graphics look like Miami Vice and Moonlighting, and the music has that funky, pop Beverly Hills Cop sound. The characters look like goofy 1980s characters with appropriate LA Law attire. The criminals you defend are charged with crimes like bootlegging VHS tapes and a male stripper who impersonates a cop. If the market for selling this iOS game is lawyers who grew up in the 1980s and now they are stuck for hours waiting for their cases to be heard, then the vibe is perfect.
After the fun, exciting trailer to open the Devil's Attorney iPhone and iPad app, then you are greeted with lots of pop-ups to describe the gameplay. You get to choose your client, and there is a synopsis of the client, crime, prosecutor, and potential earnings. When you select a case, there is another cheeky, back and forth between you–a stubble-faced, pretty boy lawyer–and the opposing prosector. Like a tower defense game, you have a set amount of points available to use when you select your weapons. There is a list of weapons with damage values on the left side of the screen. There is a list of the prosector's aces like evidence, witnesses, and courtroom antics. You touch one of your weapons, then you touch what you want to take out. There is a gauge at the top of the screen to show you the strength of your case–essentially a health meter. The prosector gets a chance to take you out, if you are not effective.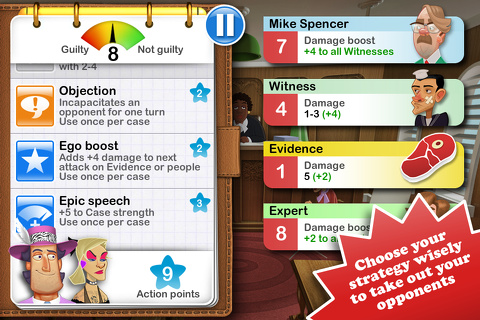 When you win, you get to spend your earnings on your apartment. You can spend earnings on swanky furniture, disco balls, and funky wallpaper. There are three levels of Devil's Attorney prowess–materialism, decadence, and vanity. You can also earn achievements like top dog, devil's attorney, and courtroom slam.
Once you get the feel for how your weapons create damage, you can go to the options icon and disable them. This eliminates some of the visual clutter, but the weapons are complicated and require strategic thinking. It may take a bit of time with it to wrap your head around the gameplay. This would be an excellent game to incorporate Draw Something and Words with Friends functionality. I know a lot of lawyers who would gladly spend $2.99 for this game for a welcome distraction from Facebook.
The Devil's Attorney iPhone, iPod Touch, and iPad game is extremely appealing to those more intrigued by board games. It's not all about accurately finessing a physics-controlled gesture–instead it's filled with strategy, wit, and humor.